Alphabet House
Call Number: CMC PE 1155 .W25 2005
ISBN: 0761451927
Publication Date: 2005-09-01
Nancy Elizabeth Wallace has done it again with her adorable three-dimensional artwork created with cut paper, scissors, and a glue stick. She invites children to enter an alphabet house and join a family of bunnies as they look for familiar objects starting with the letters A to Z. If they miss anything, an easy-to-follow answer key is provided at the back. An almost wordless text makes Alphabet House a great introduction to visual literacy, and the paper quilts on the endpapers add another colorful way to look at the alphabet.
Before You Were Big
Call Number: CMC PZ 8.3 .D2894555 Be 2003
ISBN: 0761127321
Publication Date: 2003-10-29
It's a subject kids love to hear about-what was I like when I was little? It's also a subject parents can discuss to help prepare a preschooler for a new sibling-this is what the baby will be doing when he or she comes home from the hospital. With an instinctive sense of what matters to kids and the grown-ups who read to them, Jennifer Davis and Laura Cornell celebrate the extraordinary milestones of a child's first year. Before You Were Big is an irresistible, lift-the-flap follow-up to Before You Were Born, a "spirited, kid-friendly, ingenious" (Boston Globe) story of pregnancy with 122,000 copies in print. Each spread tells, foremost, the story of what happens month by month, from minutes after birth to baby's first birthday. Then, under the flaps, young brothers and sisters see how far they've come since. So when the main image is about a floppy two-month-old being bathed in the sink, under the flap it's: "Now you've mastered the art of bubbly disguises,/So tub time is filled with jokes and surprises." A third layer gives facts about development, for example, how babies begin to prop themselves up in a catlike position by five months. Kids learn about soft spots and swaddling, first steps and parallel play. Jennifer Davis writes in whimsical, rhyming verse, while Laura Cornell-who is also the illustrator of Jamie Lee Curtis's bestselling children's books, with over 2.3 million copies in print-brings it all to life with her fun, bouncy, brightly colored art.
Do Kangaroos Wear Seatbelts?
Call Number: CMC PZ 7 .K9626 Do 2005
ISBN: 0525473580
Publication Date: 2005-02-03
This warm and whimsical picture book opens with a little boy eagerly anticipating a trip to the zoo as his mother straps him into his car seat. Like most toddlers, he would rather run free than wear a seat belt, ride in a stroller, hold Mommy's hand, or climb into her backpack. As they pass various animal exhibits, the little boy asks teasing questions, such as "If I were a monkey, would I have to wear a helmet?" Mommy's light-hearted responses reveal, in a bouncy cadence, how animal and human moms alike keep their rambunctious young ones close and safe.
Duck and Cover
Call Number: CMC PZ 7 .U6378 Dh 2009
ISBN: 9780061214448
Publication Date: 2009-01-27
When Harold, a large green alligator with a big mouth and an even bigger appetite, shows up at Irene's door seeking shelter, everyone hides. Except Max. Max persuades the other critters that this particular runaway needs their help. So while everyone keeps busy seeing that Harold remains well fed, Max cooks up a clever plan. But is a room filled with fake alligators enough to keep the zoo detective away?
God Gave Us Christmas
Call Number: CMC PZ 7 .B452233 Go 2006
ISBN: 1400071755
Publication Date: 2006-10-10
As Little Cub and her family prepare to celebrate the most special day of the year, the curious young polar bear begins to wonder... "Who invented Christmas?" Mama's answer only leads to more questions like "Is God more important than Santa?" So she and Little Cub head off on a polar expedition to find God and to see how he gave them Christmas. Along the way, they find signs that God is at work all around them. Through Mama's gentle guidance, Little Cub learns about the very first Christmas and discovers that... Jesus is the best present of all. This enchanting tale provides the perfect opportunity to help young children celebrate the true meaning of Christmas and to discover how very much God loves them.
I'm a Big Sister
Call Number: CMC PZ 7 .C67346 Iad 1997
ISBN: 0688145094
Publication Date: 2004-10-05
Warm, loving pictures accompany this upbeat look at how a family grows when a new baby comes home. A companion volume to I'm a Big Brother.
Little Naomi, Little Chick
Call Number: CMC PZ 7 .G5612 Lit 2013
ISBN: 9780802854278
Publication Date: 2013-09-01
Little Naomi has a fun and busy day at preschool and with her family, while Little Chick has a busy, fun day on the farm. Full color.
Miss Mary Mack a hand-clapping rhyme
Call Number: CMC PZ 8.3 .H66 Mi 1998
ISBN: 0316931187
Publication Date: 1998-04-01
ugely popular in both hardcover and board book formats (over 100,000 copies sold), this fun book is now available in a new paperback format. This is an absurdly funny story that children will want to sing, chant, read, and clap to again and again.
Books from the Warner University Library
More K-12 Books - Preschool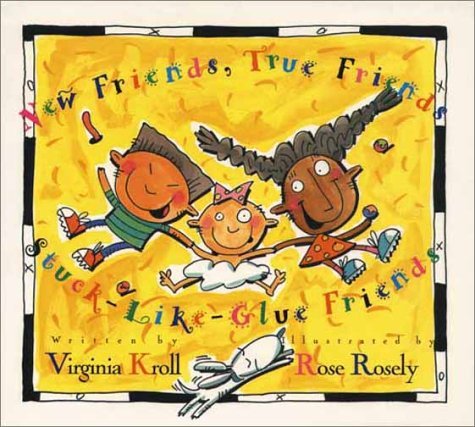 New Friends, True Friends, Stuck-Like-Glue Friends
Call Number: CMC PZ 8.3 .K8997 Ne 1994
ISBN: 0802850855
Publication Date: 1994-11-01
Illustrations and rhyming text provide a look at all kinds of friendships.
Our Teacher's in a Wheelchair
Call Number: CMC LA 2317 .H418 P69 1986
ISBN: 0807562408
Publication Date: 1986-07-01
Photo essay showing how a young teacher manages a classroom in a day care center even though he is in a wheelchair.
See How It Grows
Call Number: CMC QH 511 .G73 1994
ISBN: 0916119270
Publication Date: 1998-01-01
Repetitive, predictable story lines and illustrations that match the text provide maximum support to the emergent reader. Engaging stories promote reading comprehension, and easy and fun activities on the inside back covers extend learning. Great for Reading First, Fluency, Vocabulary, Text Comprehension, and ESL/ELL!
Ten Little Fish
Call Number: CMC PZ 8.3 .W848 Te 2004
ISBN: 0439635691
Publication Date: 2004-08-01
Bestselling author Audrey Wood and artist son Bruce create an undersea counting book that's full of the same vivid imagery and fun story elements that have made their alphabet books so successful! It's an undersea countdown in the newest book by bestselling author Audrey Wood and her dynamic, digital-artist son, Bruce. Follow ten little fish as they swim along a beautiful ocean reef, one by one departing from the school for different reasons, eventually leaving one fellow all alone. What will he do? Along comes another, and that makes two! Soon he becomes a father and she becomes a mother--with ten little children of their own. The rhyming text helps readers go from one to ten and back again, and each illustration pops with all the color and depth of an underwater playground.
The Night Before Jesus
Call Number: CMC BS 315 .B867 1977
ISBN: 9780570040842
Publication Date: 1983-07-01
Bring the real Christmas story into your hearts and homes with this beautiful book. Tells the story of the night before Jesus with the same rhythm and rhyme as the poem 'Twas the Night Before Christmas.'
The Wiggle and Giggle Busy Book
Call Number: CMC GV 452 .K82 2005
ISBN: 0881664839
Publication Date: 2005-04-01
Presents a collection of games and activities aimed at toddler and preschoolers.
Wee Sing and Learn 1-2-3
Call Number: CMC M 1999 .W394 2000
ISBN: 0843175974
Publication Date: 2000-08-07
Uses songs, simple text, and illustrations to introduce numbers.