Books from the Warner University Library
A Disciplined Progressive Educator : The Life and Career of William Chandler Bagley
Call Number: LB 875 .B162 N85
ISBN: 0820469092
Publication Date: 2003-01-01
Throughout his almost fifty-year career in education, William Chandler Bagley (1874-1946) served as an untiring fighter for liberal and professional education as well as the education of teachers. He was both a supporter and a critic of John Dewey and the complex movement known as progressive (i.e. democratic) education. During the 1920s, he insightfully critiqued the intelligence testing movement and its detrimental effects on minority children. At the end of his long career, he became known as the founder of essentialism, a movement in educational thought that he and others sought to create in the late 1930s. Bagley is a major figure in twentieth-century American educational thought, whose legacy as a democratic educator and educator of teachers merits much more attention than it has received. This book argues that Bagley's tradition in democratic education should be at least as well known as the tradition put forth by John Dewey.
Irrepressible Reformer: a biography of Melvil Dewey
Call Number: Z 720 .D5 W54 1996
ISBN: 083890680X
Publication Date: 1996-01-01
Drawing from rare archival materials researched over a period of 15 years, preeminent Dewey historian Wayne Wiegand has produced the first frank and comprehensive biography of the man behind the Dewey Decimal Classification System and scores of other enduring achievements. Tracing Dewey's life and influences that shaped it, Irrepressible Reformer explores Dewey's ingenious enterprise as a library innovator, New York State education official, and business and resort operator - as well as those aspects many found arrogant, manipulative, immoral and bigoted.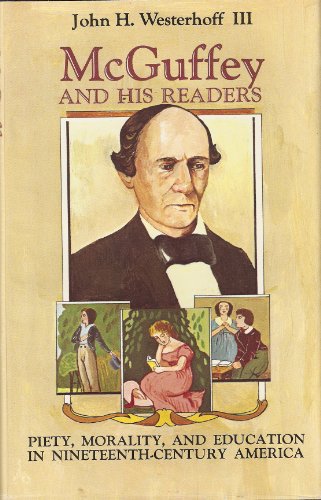 McGuffey and His Readers
Call Number: PE 1117 .M23 W4
ISBN: 9780687238507
Publication Date: 1978-01-01
Learn about William McGuffey and the impact his readers had on the piety, morality and education in 19th century America
Noah Webster: the life and times of an American patriot
Call Number: PE 64 .W5 U4 1998
ISBN: 0471184551
Publication Date: 1998-09-01
Noah Webster was a truly remarkable man, shrewd, passionate, learned and energetic, God-fearing and patriotic. Mr. Unger has done a fine job reintroducing him to a new generation of Americans. --Washington Times Noah Webster The Life and Times of an American Patriot ""More than a lexicographer, Webster was a teacher, philosopher, author, essayist, orator, political leader, public official, and crusading editor. Webster's life thrust him into every major event of the early history of our nation, from the Revolutionary War to the War of 1812. He touched the lives of the most renowned Americans --and the most obscure. He earned the love and friendship of many, the hatred of some, but the respect of all. Noah Webster helped create far more than an American dictionary; he helped create an American nation."" --from the Prologue In the first major biography of Noah Webster in over sixty years, author Harlow Unger creates an intriguing portrait of the United States as an energetic and confident young country, even when independence was fragile and the future unclear. Harlow Unger brilliantly restores Webster's monumental legacy as a teacher,legislator, philosopher, lawyer, editor, and one of history's most profoundly influential lexicographers. Breathtaking adventure--from the American Revolution to the War of 1812--and masterful scholarship converge in this riveting chronicle of a singularly American intellect.
The Making and Remaking of a Multiculturalist
Call Number: LA 2317 .C637 A3 2002
ISBN: 0807742511
Publication Date: 2002-09-01
Carlos Cortes has been involved in the growth of multiculturalism from the 1960s to the present day. He is a Professor Emeritus of History at the University of California, Riverside. Available in-person in California and by request. Cortes has written the compelling story of his life in this thought-provoking collection of essays about diversity, society, and education. In many ways, Cortes's personal and professional story is the story of the multicultural movement itself. Containing thirteen momentous essays, this volume gives witness to the struggles and successes that Cortes and many others have experienced while striving to create a place for the voices, values, and visions of racial and ethnic groups in our culturally diverse nation and shrinking world.
Those Who Dared
Call Number: LA 2311 .T54 2009
ISBN: 0807749168
Publication Date: 2008-10-29
Serving as an inspirational guide to action for those looking to be more involved in urgent and continuing efforts to restore America's public schools, this book brings together experiences and insights of the most influential and progressive educational leaders of the past half-century - and they are still working today.
Uncle Tom or New Negro?: African Americans reflect on Booker T. Washington and Up from slavery 100 years later
Call Number: E 185.97 .W4 U53 2006
ISBN: 0767919556
Publication Date: 2006-01-10
On the ninetieth anniversary of Booker T. Washington's death comes a passionate, provocative dialogue on his complicated legacy, including the complete text of his classic autobiography, Up from Slavery. Booker T. Washington was born a slave in 1858, yet roughly forty years later he had established the Tuskegee Institute. Befriended by a U.S. president and corporate titans, beloved and reviled by the black community, Washington was one of the most influential voices on the postslavery scene. But Washington's message of gradual accommodation was accepted by some and rejected by others, and, almost a century after his death, he is still one of the most controversial and misunderstood characters in American history. Uncle Tom or New Negro? does much more than provide yet another critical edition of Washington's memoirs. Instead, Carroll has interviewed an outstanding array of African American luminaries including Julianne Malveaux, cultural critics Debra Dickerson and John McWhorter, and Pulitzer Prize–winning journalist and radio talk-show host Karen Hunter, among others. In a dazzling collection bursting with invigorating and varying perspectives, (e.g. What would Booker T. think of Sean Combs or Russell Simmons? Was Washington a "tragic buffoon" or "a giver of hope to those on the margins of the margins"?) this cutting-edge book allows you to reach your own conclusions about a controversial and perhaps ultimately enigmatic figure.
Up from Slavery
Call Number: E 185.97 .W4 A37 1986
ISBN: 0140390510
Publication Date: 1986-01-07
Nineteenth-century African American businessman, activist, and educator Booker Taliaferro Washington's Up from Slavery is one of the greatest American autobiographies ever written. Its mantras of black economic empowerment, land ownership, and self-help inspired generations of black leaders, including Marcus Garvey, Elijah Muhammad, Malcolm X, and Louis Farrakhan. In rags-to-riches fashion, Washington recounts his ascendance from early life as a mulatto slave in Virginia to a 34-year term as president of the influential, agriculturally based Tuskegee Institute in Alabama. From that position, Washington reigned as the most important leader of his people, with slogans like "cast down your buckets," which emphasized vocational merit rather than the academic and political excellence championed by his contemporary rival W.E.B. Du Bois. Though many considered him too accommodating to segregationists, Washington, as he said in his historic "Atlanta Compromise" speech of 1895, believed that "political agitation alone would not save [the Negro]," and that "property, industry, skill, intelligence, and character" would prove necessary to black Americans' success. The potency of his philosophies are alive today in the nationalist and conservative camps that compose the complex quilt of black American society.