The following are restricted to current Warner University students, faculty, and staff.
Log-in: Warner email account.
Vocational Guidance 1:

Acting


Advertising/Public Relations


Agriculture


Art


Business
Acting/Entertainment/Film/Theater
Advertising and Public Relations/Marketing Research
Agriculture/Animals/Veterinary
Becoming an Art Therapist: Enabling Growth, Change, and Action for Emerging Students in the Field.
ISBN: 9780398090739
Publication Date: 2015-04-17
This is not a "how-to" book but rather about the "experience" of becoming an art therapist. The text covers issues in supervision and mentorship, contains stories by art therapy students about what they are thinking and feeling, and letters to young art therapists by highly regarded professionals in the field. The reader has the advantage of ideas and responses from both a student art therapist and an art therapist with many years' experience and is clearly intended for students aiming for a career. Chapter 1 is about students as a secret society and the importance of student colleagues. The second chapter is a short history of art therapy education, while Chapter 3 is a review of some literature potentially useful to art therapy students. Chapter 4 represents Kim Newall's journal with imagery of her internship experience as a third-year graduate student in a community clinic. For Chapter 5, art therapy graduate students in various geographical sections of the United States describe their worst and best student experiences and their most important role models. Chapter 6 is about mentoring-what it is and why an art therapist should have a mentor. In Chapter 7, twelve senior art therapists, each with many years' experience, write a personal letter to the coming generations of art therapists. The letter writers are all pioneers in the field. Finally, Chapter 8 offers a selected art therapy bibliography. This extraordinary book conveys the message "you can do this and it's worth it." The text is a much needed contribution to the field of art therapy. Students for many semesters to come will be reassured, validated, and informed. Experienced art therapists will ford valuable perspectives on supervision, teaching, and mentorship.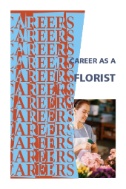 Career As a Florist: Floral Designer: Use Your Artistic Talent to Own Your Own Business.
ISBN: 9781441640840
Publication Date: 2010
Career As an Art Teacher
ISBN: 9781435603646
Publication Date: 2007-01-01
Career in Advertising, Graphic and Web Designing, Printing and Publishing
ISBN: 9789350435984
Publication Date: 2009-01-01
How to Be an Illustrator
ISBN: 9781780673288
Publication Date: 2014-02-18
This book offers practical help and guidance to aspiring illustrators. All areas of the job are covered - how to create a portfolio; the most effective ways to approach would-be clients; how to prepare for meetings and negotiate contracts; and how to handle, deliver, and bill a job. There is advice on how to avoid the pitfalls that can undermine crucial first impressions; how to set up a studio; and how to maintain a flow of work and manage one's time and cash. Success in self-promotion, creating websites, self-publishing, and the pros and cons of agents are all explored. International illustrators are interviewed, discussing how they got their break in the industry, their experiences with clients, their methods of promoting work, and more. In addition, leading art directors describe their approach to commissioning illustration, how they spot new talent, their thoughts on promotional material, and their advice to up-andcoming illustrators. Packed with useful tips gleaned from the author's own career as an illustrator, and his work as an agent handling some of the best new talent, the book is an essential read for anyone looking to succeed in illustration.
How to Choose, Brief and Work with Graphic Designers
ISBN: 9781909183438
Publication Date: 2013-11-26
A companyOCOs visual identity - as it appears in everything from business stationery and brochures, to product packaging and websites - is central to a companyOCOs impact on the market. ItOCOs the first impression a prospective customer gets: but for many businesses, design is seen as a OCynecessary evilOCO, best avoided, but if thatOCOs not possible, then best done cheaply. This down-to-earth, succinct handbook will show you why you should choose your designer as carefully as you would choose a new, se..."
More Best Business Practices for Photographers
ISBN: 9781305094055
Publication Date: 2014-05-28
MORE BEST BUSINESS PRACTICES FOR PHOTOGRAPHERS expands on the success of John Harrington's popular BEST BUSINESS PRACTICES FOR PHOTOGRAPHERS. This second volume features even more tips and techniques for professional and aspiring photographers looking to operate a successful photography business. Photography is more technologically sophisticated than ever today, but it takes more than a good eye and technical know-how to build a thriving business. A veteran pro photographer, Harrington understands the business, and he gives you the details you need to know in order to succeed. In easy-to-understand language, he covers the essential points of the business of professional photography and guides you toward best practices in client interaction, negotiating contracts and licenses, business operations, and much more (including expanded information on pricing and contract models). The first volume, BEST BUSINESS PRACTICES FOR PHOTOGRAPHERS has been adopted by schools across the country and has won rave reviews. See for yourself how MORE BEST BUSINESS PRACTICES FOR PHOTOGRAPHERS can improve your business and put you on the path to success.
Starting Your Career as a Freelance Illustrator or Graphic Designer
ISBN: 9781581151992
Publication Date: 2001-10-01
Technology has sent shockwaves of change through the world of commercial art. Digital illustration and design, online portfolio sites, and the proliferation of stock art have radically changed the way that illustrators and graphic designers work. What has not changed, however, is the wealth of illustrators and graphic designers hoping to turn their talent into freelance success. For those embarking on freelance careers in illustration or graphic design, the answers have arrived. A twenty-five year veteran in the field, Michael Fleishman, has detailed every business aspect of commercial art in Starting Your Career as a Freelance Illustrator or Graphic Designer.
Starting Your Career as a Freelance Photographer
Call Number: TR 690.2 .C73 2003
ISBN: 1581152809
Publication Date: 2003-08-01
Here is a virtual treasury of advice, insight, and guidance for every freelance photographer! From creating a portfolio and promoting your work to winning the first client and running a healthy, profitable business, Starting Your Career as a Freelance Photographer provides crucial marketing, business, and legal know-how for every step of the process. New entrepreneurs will discover in-depth information on choosing the right location, interacting with clients effectively, and receiving timely payments. They'll also find practical advice for keeping track of business income and expenses, managing insurance and tax issues, and marketing their work to a diverse range of clients. Readers will also find real-life answers to the essential questions every photographer asks, including how to negotiate, how to price, how to find the right market, and even how to keep from drowning in paperwork. Finally, the guide includes sample contracts, model release forms, and much more. For anyone looking to earn money with their photography, Starting Your Career as a Freelance Photographer is a must-have start-up kit!
Starting Your Career as an Artist: A Guide for Painters, Sculptors, Photographers, and Other Visual Artists
ISBN: 9781581158533
Publication Date: 2011-07-27
Starting Your Career as an Artist is a comprehensive manual full of sound advice for artists seeking to advance their professional careers. Veteran art career professionals Angie Wojak and Stacy Miller show aspiring artists how to evaluate their goals, create a plan of action, and use their talents to build a productive life in the art world. Chapters cover topics essential to the emerging artist, such as building community through networking, collaborating, and finding mentors; setting up a studio; health and safety for artists; artist's resumes and CVs; developing marketing plans; finding alternative exhibition venues; and refining career aspirations. In addition, the book includes inspiring and insightful interviews with professional artists and well-known players in the art scene. http://www.facebook.com/StartArtCareer
To Be an Artist: Musicians, Visual Artists, Writers, and Dancers Speak
Publication Date: 2012
To Be An Artist is a conversation with today's successful and prominent artists from a variety of disciplines—musicians, visual artists, digital artists, poets, writers, activists and scholars. All of them discuss what it means to be an artist today, how they perceive their craft and their world, and the role of art in society. They agree that artists'creativity and success come not only from the intense focus on their craft, but, also, from their development of a worldview—from their wider vision and understanding of the world in which they live..