The following are restricted to current Warner University students, faculty, and staff.
Log-in: Warner email account.
Vocational Guidance 2:

Clergy/Missionaries


Counseling/Gergontology/

Psychology/Social Work


Criminology/Law Enforcement


Diplomacy/Federal/Languages/Military


Disabilities


Education/Media Specialist

Clergy/Missionaries/Missions
Ask a Missionary: Time-Tested Answers from Those Who've Been There Before
ISBN: 9780830856046
Publication Date: 2010-04-01
If you are exploring doing something extraordinary for the glory of God among the nations, Ask A Missionary will give clarity and answers for a journey into missions.Because they have "been there", over one hundred missionaries from around the world, including Elisabeth Elliot, George Verwer, Phyllis Kilbourn, and Bill Stearns, share their insightful wisdom and practical advice on everything from making the decision to go, to stepping into a new life once on the field, and everything in between.The treasures amassed in this book will guide you toward serving in the most wonderful, challenging, God glorifying, eternity-impacting endeavor in the world: missions.
Nazarene Youth Goes International: Adults and Youth Making a Difference Around the World
ISBN: 9780834129221
Publication Date: 2012-02-15
Gary Sivewright's commitment to missions began as a Nazarene college student when he traveled with a small public relations choir known as the Mission Crusaders. From that life-changing experience his commitment grew from his first trip outside of the United States to Musquiz, Mexico, and grew to travels to many world areas taking other people with him.This book shares his travels leading youth groups, college and university students, and youth leaders, allowing others to experience the great joy and fulfillment that comes from giving a portion of their lives to missions.God still calls missionaries, but not everyone is called to lengthy missionary assignments. This book will lead you to examine some ways God may want to use your short- or long-term commitment to missions.
Counseling, Gerontology, Psychology, and Social Work
Criminology/Dectives/Forensic/Law/Law Enforcement
Diplomacy, Federal, Global, Languages, and Military
Education/Media Specialist
101 Careers in Education
ISBN: 9780826199843
Publication Date: 2015-08-01
Education is a rewarding area of work that provides some of the most diverse career opportunities of any field. Written by educators with real-world knowledge of the profession, this information-packed guide provides the career explorer with concise information on the necessary skills, training, certification/licensure, compensation, and employment outlook for over 100 careers in a wide range of education settings. This book describes careers that range from working with very young children to positions in traditional K-12 schools to educating adults in organizational settings. It discusses careers suitable for those who enjoy working with people as well as careers for individuals who are more comfortable with information or ideas. A particularly useful feature is information about alternative paths to working in education for those with degrees in related service professions. Careers outside of traditional settings include work in adult education, independent education, business or government settings, community-based educational services, and part-time opportunities, to name a few. Special attention is paid to positions in STEM and educational technology, one of education's fastest-growing careers, and careers of leadership including management, innovation, and accountability. The authors also provide a guide to self-assessment that helps readers to learn about those careers that best match their interests and temperament. Interviews with education professionals in a variety of arenas, such as middle school foreign language teacher, special education teacher, Head Start coordinator, and college athletic director, offer an in-depth look at different career opportunities. Key Features: Covers 101 careers including necessary skills, training, certification/licensure, compensation, and employment outlook Includes career options for new teachers, those changing careers within education, and those seeking education as a second career Includes many career options outside of traditional school settings Presents interviews with 23 individuals in different educational positions Provides self-assessment questions, information pertaining to professional development, and guidance on the job-search process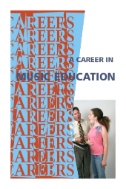 A Career in Music Education
ISBN: 9781441640772
Publication Date: 2010
Answering the Call to Teach: A Novel Approach to Exceptional Classroom Instruction
ISBN: 9781610487443
Publication Date: 2012-05-18
Answering the Call to Teach: A Novel Approach to Effective Classroom Instruction makes the case that effective teaching begins with people who have a sincere calling to teach. The book discusses how children respond more creatively to teachers who have a calling. These teachers are more passionate, more interested in going that extra mile for children, and who, by design, encourage other children with the gift to teach to carry the torch. There is more to teaching than purely translating academic concepts to children. Teaching is a vocation. The book creates a framework by which training institutions can use so that our children are getting the best teachers. This is the most effective method in the classroom the right teacher."
Becoming a Responsive Science Teacher: Focusing on Student Thinking in Secondary Science
ISBN: 9781936959051
Publication Date: 2012-10-01
Becoming a Responsive Science Teacher offers: a philosophical framework for understanding the beginnings of scientific thinking in high school students; five real-life case studies, four of which are captured on video, and accompanying transcripts, stored on the NSTA website; suggestions for how to use the case studies to practice recognizing, interpreting, and responding to the vital nuances of your own students' thinking in real time; and advice on next steps, including how to overcome systemic impediments and maintain your focus on student thinking. Becoming a Responsive Science Teacher is ideal for teacher educators as well as current and preservice teachers. The book holds out the promise that when you consciously strive to help students work through their ideas about science, the result can be more effective instruction from you, and much deeper understanding for your students.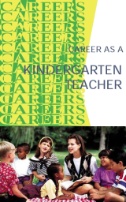 Career As a Kindergarten Teacher
ISBN: 9781429412261
Publication Date: 2006-01-01
Career As an Art Teacher
ISBN: 9781435603646
Publication Date: 2007-01-01
Careers in Education & Training
ISBN: 9781682171509
Publication Date: 2016-11-01
Careers in Education & Training contains twenty-four alphabetically arranged chapters describing specific fields of interest in this field. Merging scholarship with occupational development, this single comprehensive guidebook provides students interested in careers in the fields of education and training with the necessary insight into potential careers, and provides instruction on what job seekers can expect in terms of training, advancement, earnings, job prospects, working conditions, relevant associations, and more. Careers in Education & Training is specifically designed for a high school and undergraduate audience and is edited to align with secondary or high school curriculum standards.
Constructing New Professional Identities: Career Changers in Teacher Education
ISBN: 9789462092587
Publication Date: 2013-03-01
This book provides a unique insight into the learning experiences of career change professionals in teacher education. Many studies have provided a brief glimpse into the experiences of people making a career change into teaching, but this book offers an in-depth analysis of the day to day struggles and triumphs of a small group of career change students studying teacher education in Australia. This study locates teacher professional learning within a sociocultural research paradigm, highlighting the importance of social, cultural and institutional contexts in learning. Learning to become a teacher is not merely the acquisition of a set of technical skills and propositional knowledge, but a far more complex personal struggle to construct a new professional identity. This book uncovers some of the trials, tribulations and joys of becoming a teacher for those who have already worked in other careers. It examines the impact of previous career experiences on the construction of a new professional identity as a teacher. This process is discussed using the framework of learning within communities of practice. Firstly, a broad-brush picture is presented through analysis and discussion of extensive quantitative data obtained via an on-line survey, after which a small group of survey respondents provide a more nuanced exploration of their experiences as student teachers. This is followed by three case studies that delve more deeply into the experiences, frustrations and joys of being an expert novice in teacher education. These case studies examine the stories of three career changers who provide personal insights into what it is like to be an experienced professional embarking on a new journey as a novice student teacher.
Good Ideas for Good Teachers Who Want Good Jobs
ISBN: 9781845909512
Publication Date: 2015-05-30
This to-the-point little guide contains everything you need to know about jobs, career progression and interviews. Good teachers deserve the good guide. You're a good teacher. Don't be modest, you know you are. The key to satisfaction lies in knowing who you are and what you want, and then making the choices that suit. The real aim here is to make sure that as you approach each step on the career ladder, the choices you make and the actions you take are really worthy of your status as a good teacher. That's to say they will be deeply considered, well-researched, honest and self-aware and carried out with confidence and professionalism. Good teachers are flexible visionaries. Good teachers are doers. Good teachers know where to find the jobs. Good teachers do not count their chickens. Good teachers know that, in job hunting, knowledge is power. Good teachers know how to fill in application forms. Good teachers have good answers to interview questions. Good teachers avoid interview pitfalls. Good teachers don't feel rejected. Good teachers are decisive about the job offer.
How to Get the Teaching Job You Want: The Complete Guide for College Graduates, Teachers Changing Schools, Returning Teachers and Career Changers
ISBN: 9781579229566
Publication Date: 2011-06-30
Competition for the best teaching jobs is becoming more intense. Since publication of the first edition, when it was mainly the most desirable schools that were deluged by applications, the economic climate has made the teacher market more competitive across the board, and is changing hiring practices. Now extensively revised, this book maintains its place as the most up-to-date book available on job hunting for teachers. The authors cover changes in the educational marketplace; the new mandates about standardized testing and public reporting of student achievement-and what they mean for applicants; how new certification standards and schools' requirements affect career changers; the growing acceptance of on-line applications and electronic portfolios; and provide additional advice for teachers applying to change schools or districts. This is also the only guide written by school administrators. Offering the insights and experience of two authors who do the hiring, it details a step-by-step program for taking charge of your teaching career. How to Get the Teaching Job You Want enables you to: * Match your unique talents to the needs of a particular school * Craft effective cover letters and resumes, using models that address the specific needs of college graduates, teachers changing schools, returning teachers and career changers * Make effective on-line applications * Leverage your achievements as an experienced teacher-or, for graduates or career changers, student teaching, substitute teaching, volunteer work or content knowledge-into a job offer * Locate jobs on-line and discover valuable information about schools, including test results, educational philosophy and names of key administrators * Design a portfolio in book or electronic format to showcase your abilities * Practice interview skills using 100 questions taken from real job interviews * Apply proven strategies for a variety of interview formats, including high stress interviews and performance interviews * Address controversial questions during interviews This book covers procedures for applying to elementary, middle and high schools; public, independent, and parochial schools; as well as international and boarding schools. Anecdotes recounting the experiences of real candidates looking for jobs illustrate key points. Access to the authors' web site ensures that you will stay current in a changing job market. This is a vital book for teachers and aspiring teachers who want to achieve their career goals. It will also be invaluable for guidance counselors, psychologists, librarians and other school professionals.
New on the Job: A School Librarian's Guide to Success, Second Edition (2)
ISBN: 9780838912645
Publication Date: 2014-11-01
As if transitioning from library school or a different type of library job into the role of a school librarian wasn't challenging enough, just factor in today's straitened funding environment for the position itself. Librarians new on the job need expert advice on what to expect and how thrive, and since its publication in 2006 this guide has served as a wise mentor for the new school librarian. From job search strategies and discovering work philosophy to the nitty-gritty details of creating acceptable use policies, this revised and updated edition, which includes a new foreword from Sarah Kelly Johns, shares the joys and perils of the profession along with a wealth of practical advice from decades of experience in school library programs.
Physical Education: Teachers' Lives and Careers: PE, Sport And Educational Status (1)
ISBN: 9780203486948
Publication Date: 1998-03-01
Explores the lives and careers of physical education teachers from two perspectives. Firstly, teachers' life-stories illustrate how eight teachers became involved with sport, how they entered the physical education profession, why they developed particular teaching philosophies, and how they have tried to progress in their teaching careers. Secondly, a broader thematic analysis identifies issues which arise throughout the teachers' stories and locates them within the wider international research literature. Low status is identified as an enduring concern, and it is argued that this stems from a lack of empirical research into the educational outcomes which are claimed for physical education.
Preparing Early Childhood Educators to Teach Math: Professional Development that Works
ISBN: 9781598572810
Publication Date: 2014-06-09
If you're preparing early childhood educators for the critical task of teaching math, this groundbreaking resource is just what you need to plan and implement effective professional development. Translating recommendations from the National Research Council's early mathematics report into clear and actionable goals, this text is your key to improving the way educators teach math to children ages 3-6. You'll get an in-depth guide to what math teachers need to teach; a research-based framework for strengthening professional development; and web-based video clips to enhance training sessions and show teachers the "how' of high-quality math instruction. Use this accessible text to guide both pre- and inservice teacher preparation; and ensure better math teaching and higher student achievement. Teacher trainers will: understand the classroom challenges of today's early childhood educators; see how children's mathematical minds develop and clarify learning goals for them; build professional development around five essential goals for high-quality math instruction; make the most of innovative professional development methods and technologies; promote better math instruction for culturally diverse children and children with disabilities; and more.
The Dream and the Reality of Teaching: Becoming the Best Teacher Students Ever Had
ISBN: 9781610480178
Publication Date: 2011-05-05
The dream of teaching is that it's fascinating, meaningful, inspiring, and rewarding. The reality of teaching is that it can be exhausting, frustrating, heart-breaking, and disappointing. This book guides prospective teachers through an analysis of the profession they are considering and of their match with that profession and leads current teachers through an analysis of their career achievements, progress, challenges, and goals.