France and the Americas: Culture, Politics, and History
A unique, multidisciplinary encyclopedia covering the impacts that French and American politics, foreign policy, and culture have had on shaping each country's identity.
Encyclopedia of the European Union
Provides in-depth, authoritative discussions of the key concepts, developments, institutions, policies, negotitations, treaties, national interests, personalities, etc., related to European integration.
Collins French Dictionary Plus
This edition has been revised and updated to offer extensive and relevant coverage of today's English and French, with thousands of phrases and examples guiding the user to the most appropriate translation.
Business French Dictionary, Peter Collin Publishing
Provides a specialist business vocabulary for translators, business people, secretaries, and students. Comprehensive coverage of all aspects of business: insurance, stock exchange, accounting, finance, and computing.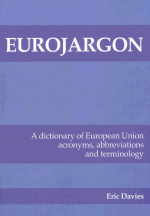 Eurojargon
Eurojargon is a comprehensive, easy-to-use dictionary of 'Eurospeak', containing acronyms, abbreviations and other EU-related terms.
A Historical Companion to Postcolonial Literatures: Continental Europe and its Empires
Provides an integrated and authoritative body of information about the political, cultural and economic contexts of postcolonial literatures that have their provenance in the major European Empires of Belgium, Denmark, France, Germany, Italy, The Netherlands, Portugal, and Spain as well as places like Latin America and the Philippines
Key Concepts in Postcolonial Literature
Provides an overview of the main themes, issues, and critical perspectives that have had the greatest effect on postcolonial literatures.
Publisher Collection Titles
Please note: Publisher Collections are not part of Credo General Reference collections. Your library may not have access, please check your subscription.
The Longman Companion to European Decolonisation in the Twentieth Century
Presents essential facts and figures relating to European decolonization in the twentieth century by taking each European empire in turn and providing a detailed chronology of the process of decolonization in the affected states.
The Longman Companion to Napoleonic Europe
Describes the impact of Napoleon on France and on Europe when his armies dominated the continent and no European country was untouched or unchanged by the events of these turbulent years.
The Longman Companion to the European Reformation 1500-1618
Provides the essential background to the complex evolution of the protestant reformation movement during its first century.