Books from the Warner University Library
American Soccer: history, culture, class
Call Number: GV 944 .U6 R44 2015
ISBN: 9780786496280
Publication Date: 2015-01-12
This narrative of U.S. soccer's history and present-day status addresses the issues of socioeconomics. Emphasizing the differences between social classes in U.S. soccer past and present, as well as those between American soccer and international football, this work analyzes the role of class in American soccer's failure to carve out a more prominent place in the sports landscape. Contemporary soccer is explored from its beginnings in informal Parks and Recreation leagues to the development of formal club programs, and university, professional, and U.S. national teams. In recent decades, Hispanic leagues formed primarily by Mexican and Central American immigrants have reinforced the theme of a class-based, exclusionary space in U.S. soccer. A personal perspective based on the authors' experience coaching soccer at the informal level broadens the book's appeal.
Baseball, Inc.: the national pastime as big business
Call Number: GV 880 .J69 2006
ISBN: 0786425342
Publication Date: 2006-02-03
During the second half of the twentieth century, Major League Baseball and its affiliated minor leagues evolved from local and regional entities governing the play of America's favorite pastime to national business organizations. The relocation of teams, league expansion, the advent of free agency and an influx of international players has made baseball big business, on an increasingly global scale. Focusing on the last fifty years, this work examines the past and present commercial elements of organized baseball, emphasizing the dual roles--competitive sport and profitable business--which the sport must now fulfill. Twenty-five essays cover five areas integral to the economic side of baseball: business and finance, human resources, international relations, management and leadership and sports marketing. Detailed discussions of the redistribution of revenues, the history of player unionization, aggressive global marketing, strategies of franchise owners and an evaluation of fan costs, among other topics introduce the reader to the important issues and specific challenges professional baseball faces in an increasingly crowded--yet geographically expansive--sports marketplace. The work is also indexed.
Brand NFL: making and selling America's favorite sport
Call Number: GV 954.3 .O75 2007
ISBN: 9780807831427
Publication Date: 2007-09-03
"Professional football today is a $6 billion sports entertainment industry. In this astute field-level view of the National Football League since 1960, Michael Oriard looks closely at the development of the sport and at the image of the NFL and its unique place in American life. At the heart of this story is a question with no simple answer: has the extraordinary commercializing and ""branding"" of NFL football since the late 1980s ironically weakened the cultural power of a sport whose appeal for more than a century was fundamentally noncommercial? Oriard skillfully traces the evolution of the Super Bowl, the development of NFL Films and ESPN, the rise of the commissioner as corporate CEO, the management of player demands, changing attitudes toward race, and the roles of icons such as Vince Lombardi, Joe Namath, and Deion Sanders. As a former member of the Kansas City Chiefs (1970- 1973) who lost his job at the end of the first players' strike, Oriard offers unique insight as both insider and historian. He details how the game is marketed as entertainment rather than sport, making the NFL ripe for popular consumption. This repackaging, Oriard warns, also risks alienating those passionate fans drawn to the game on the field and its larger-than-life heroes."
Built to Win: inside stories and leadership strategies from baseball's winningest general manager
Call Number: GV 875 .A8 S34 2006
ISBN: 0446578681
Publication Date: 2006-04-01
In 2005, the Atlanta Braves won their unprecedented 14th straight National League East title. And behind this success has been the genius of John Schuerholz, whose anti-Moneyball philosophies kept the Braves among the elite teams in baseball for over a decade. Now, Schuerholz pulls back the curtain for the first time, revealing everything from how the Braves traded for Barry Bonds in the early 90s to dealing with John Rockers hateful comments in 1999 to losing pitchers Greg Maddux and Tom Glavine to the recent acquisition of superstar Tim Hudson, and, against all odds, how he helped keep the Braves at the top of the baseball mountain. Offering a remarkable and candid view inside one of the most incredible minds in all sports, BUILT TO WIN will make baseball fans worldwide look at the game in a whole new way.
Complete Conditioning for Soccer
Call Number: AV-Kit GV 943.9 .T7 G38 2009 Book
ISBN: 0736077138
Publication Date: 2009-04-17
Increase strength to dribble through traffic. Pack more power into shots on goal. Improve quickness and agility to find open passing lanes and evade opponents. Complete Conditioning for Soccer shows you how to achieve all of these performance goals and more. Soccer players are faster and stronger than ever before. In this special book and DVD package, renowned soccer strength and conditioning coach Greg Gatz provides a comprehensive training approach that builds players' physical abilities as well as the soccer-specific skills required for dribbling, tackling, passing, heading, shooting, and goalkeeping. Complete with assessment tests for determining a players' fitness status and specific programs that improve balance, quickness, agility, speed, and strength, this book will help you dominate your position. The DVD puts the training into action by demonstrating key tests, exercises, and drills from the book. With nutritional guidelines as well as seasonal workouts, Complete Conditioning for Soccer provides a multidimensional training approach that will show you how to get the most from your time in the gym and on the pitch.
Friday Night Lights: a town, a team, and a dream
Call Number: GV 958 .P47 B57 2004
ISBN: 0306813742
Publication Date: 2004-09-01
Return once again to the enduring account of life in the Mojo lane, to the Permian Panthers of Odessa -- the winningest high school football team in Texas history. Odessa is not known to be a town big on dreams, but the Panthers help keep the hopes and dreams of this small, dusty town going. Socially and racially divided, its fragile economy follows the treacherous boom-bust path of the oil business.In bad times, the unemployment rate barrels out of control; in good times, its murder rate skyrockets. But every Friday night from September to December, when the Permian High School Panthers play football, this West Texas town becomes a place where dreams can come true. With frankness and compassion, Bissinger chronicles one of the Panthers' dramatic seasons and shows how single-minded devotion to the team shapes the community and inspires-and sometimes shatters-the teenagers who wear the Panthers' uniforms. Includes Reader's Group Guide inside.Now a major motion picture starring Billy Bob Thorton.
Great Golf: game changing tips from history's top golfers
Call Number: GV 963 .G676 2012
ISBN: 9781600786723
Publication Date: 2012-05-01
Providing a complete library of golf instruction in one volume, this compilation features a variety of valuable lessons drawn from the most famous, popular, and trailblazing golf books as well as classic and contemporary magazines. Going beyond the standard instructional manual, this is the only golfing reference that presents its information in the original words of the great champions, instructors, and authors—both male and female—while also covering every aspect of the game, integrating its history and the parallel development of its multibillion-dollar instruction industry. Featured instructors and players include Bobby Jones, Sam Snead, Joyce Wethered, Babe Didrikson Zaharias, Jack Nicklaus, Harvey Pennick, Chi Chi Rodriquez, Ernie Els, Tiger Woods, Nancy Lopez, Dave Pelz, and Vivien Saunders. Showcasing each lesson with feature boxes that condense essential instruction into handy bullet points, this volume's photographs clearly illustrate the best techniques while countless sidebars, quotes, and tips ensure it is destined to become a classic guide for a timeless sport.
International Book of Tennis Drills: over 100 skill-specific drills adopted by tennis professionals
Call Number: GV 1002.9 .C63 I58 2013
ISBN: 9781600788291
Publication Date: 2013-04-01
Filled with time-tested drills designed to improve every aspect of one's game, this updated edition is the ideal resource for any tennis player who wants to gain an edge on their competition. With more than 100 practice drills for both group and independent practice, readers will learn how to improve their serving, returning, groundstrokes, lobs, drop shots, approach shots, overheads, volleys, and much more. The singular, authoritative source for skill-enhancing drills, this guide is equally useful for beginning or advanced players of all ages.
Landry: the legend and the legacy
Call Number: GV 939 .L28 S235 2000
ISBN: 0849916704
Publication Date: 2000-07-18
From his unique vantage point as the dean of Dallas sports writers, Bob St. John brings us a soul-stirring portrait of one of America's most loved heroes-Tom Landry-who was, for twenty-nine years, the Dallas Cowboys' only head coach. Recounting Landry's phenomenal rise to coaching fame, St. John gives us glimpses of Landry as the intramural champion in light heavyweight boxing at the University of Texas, the decorated military veteran, the rugged college halfback, and the dedicated husband and father of a family that mattered more to him than any of his legendary football teams. For years St. John covered the Cowboys for the Dallas Morning News. So he brings to these pages a wealth of inside tales and touching vignettes of the coach who made them "America's team." As he traces the Cowboys' illustrious history to show us Tom Landry in action, St. John chronicles Those first agonizing years when the talent-poor Cowboys got pulverized by tough NFL teams The incredible ten-year coaching contract Murchison awarded to Landry after his first four humiliating seasons The first glimmerings of glory when Don Meredith, Bob Lilly, Mel Renfro, Lee Roy Jordan, and Walt Garrision became household names The Glory years-the Staubach years-with back-to-back Super Bowl contending teams The dog-days at the end of Landry's coaching career when the NFL's parity rules depleted the Cowboy's arsenal once more The seismic shock in Dallas when the team's new owner fired the world's favorite coach Thousands gathered to honor "the man in the hat" shortly before he died. Former President George Bush said to him, "You're an inspiration to all who have ever watched or played the game of football." St. John recalls that moment: "As Landry walked off the speaker's stand it would be the last time most people would ever see him. That familiar face that seemed to be chiseled in stone with deep-set, pale eyes that could almost become slits when he smiled or deeply concentrated the chine that jutted out would become a fading memory. And then Landry walked away and was gone." But he has not been forgotten.
Quiet Strength : [the principles, practices & priorities of a winning life]
Call Number: BR 1725 .D738 A3 2007
ISBN: 1414318014
Publication Date: 2007-07-10
2008 Retailer's Choice Award winner!Tony Dungy's words and example have intrigued millions of people, particularly following his victory in Super Bowl XLI, the first for an African American coach. How is it possible for a coach-especially a football coach-to win the respect of his players and lead them to the Super Bowl without the screaming histrionics, the profanities, the demand that the sport come before anything else? How is it possible for anyone to be successful without compromising faith and family? In this inspiring and reflective memoir, Coach Dungy tells the story of a life lived for God and family-and challenges us all to redefine our ideas of what it means to succeed. Includes a foreword by Denzel Washington and a 16-page color photo insert.
Running Well
Call Number: GV 1061 .M877 2009
ISBN: 0736077456
Publication Date: 2008-10-21
Nothing beats the pleasure of running. Unfortunately, many runners are slowed down by injuries that could be avoided through changes in training or technique. That's where Running Well comes in. Based on the latest scientific principles, this accessible guide shows you these techniques: -How to minimize the risk of injury and stay healthy -The differences between training and straining -How to strengthen and maintain the primary running muscles -Ways of assessing and improving technique -How to recognize injuries early on and avoid more serious setbacks And if you do get injured, Running Well will return you to action quickly. Sections devoted to each bodily region detail common symptoms and causes of discomfort. You'll learn how to treat the injury, know when to seek help and know how to prevent the problem from reoccurring. From avoiding overtraining to increasing flexibility, Running Well has everything you need to keep you running all year round so that you sprint—not limp—to the all-important finish line.
Shattering the Glass the remarkable history of women's basketball
Call Number: GV 886 .G78 2005
ISBN: 1565848225
Publication Date: 2005-08-19
Over the past decade, women's basketball has exploded onto the national sports scene. WNBA and NCAA television ratings have skyrocketed; movies, magazines, and clothing lines showcase female players. But as the authors of Shattering the Glass show, women's basketball has a much longer history, reaching back over a century of struggle, liberation, and gutsy play. Shattering the Glass offers a sweeping chronicle of women's basketball in the United States, from its invention in the late nineteenth century to its dominant position in sports today. Offering vivid portraits of forgotten heroes and contemporary stars, it also provides a broader perspective on the history of the sport, exploring its relationship to changing ideas of womanhood, efforts to expand women's economic and political rights, and definitions of sexual equality. Based on original interviews with players, coaches, administrators, broadcasters, and extensively illustrated, Shattering the Glass provides a moving, gritty view of the game on and off the court, and an empowering story of the generations of women who have shaped women's basketball.
Skateboarding : the ultimate guide
Call Number: GV 859.8 .B4 2013
ISBN: 9780313381126
Publication Date: 2013-01-01
From skateboarding's distant origins in the 1940s to the heyday of the Z-Boys to Tony Hawk's lifelong and lucrative career as a professional skateboarding icon, this book showcases what skateboarding was in the past and what it's now evolved into. * Bibliography includes primary and secondary sources and current websites * Glossary provides a comprehensive list of skating "lingo" * Index contains a comprehensive listing of names, companies, places, and terms
Soccer Strategies: attacking, defending, goalkeeping
Call Number: GV 943 .F34 2009
ISBN: 155407519X
Publication Date: 2009-09-01
A coach and soccer player's guide to the best techniques and most effective plays. Professional soccer coach Paul Fairclough provides expert advice for players of all levels, demonstrating how they can improve the skills and tactics used in their game, whether as an attacker, defender or goalkeeper. The book covers every critical play for each position. For example, a defender must pass the ball at a critical time, an attacker must never be afraid to shoot for goal and a goalkeeper must know the precise moment and just the right move to make a save. Expert advice from professional coaches and players is given in concise, easy-to-follow instructions, complemented by full-color spreads. Some of the features that make this book especially easy to use include: Profiles of each position Full-color photo sequences that show body positions for each technique or skill Diagrams that show passing positions and plays Step-by-step coaching points that offer encouragement Tip sidebars to help players improve their technique Practice drills specific to each position Corrective actions for overcoming common errors. Soccer Strategies is a practical, hands-on addition to a soccer player's training regime and a coach's practice plans.
Tennis Strokes and Tactics: improve your game
Call Number: GV 995 .L53 2009
ISBN: 1554074657
Publication Date: 2009-09-01
A tennis tune-up for players of all skill levels. From the serve, ground strokes and volleys to the smashes, lobs and drop shots, this unique coaching manual illustrates each stroke from five angles: front, back, left, right and above. In this all-around skills guide, tennis pro John Littleford delivers expert guidance to identify accurate positioning of feet, body and the racquet -- just like having a personal pro watching, correcting and coaching every swing. Tennis Strokes and Tactics features step-by-step analysis and multi-angle photography that illustrates how to: Track the ball to the racquet head using hand-eye coordination Maintain correct posture and good footwork Establish correct and comfortable grips Hit a forehand with great topspin Master the secrets of the backhand -- one-handed and two-handed Control the ball with power on volleys Serve with more speed, spin and deception Return serve with more punch and accuracy Use the lob and drop shot as devastating offensive weapons Master an accurate and powerful overhead smash Move across the court more fluidly for greater efficiency. Tennis Strokes and Tactics also includes a comprehensive section on effective tactics and strategies for singles and doubles play. Using this innovative guide, tennis players of any level will improve their game.
The Complete Book of Triathlon
Call Number: GV 1060.73 .M4947 2012
ISBN: 1841263265
Publication Date: 2011-10-15
The Complete Book of Triathlon Training is for all athletes who want to improve in or convert to the fascinating sport of triathlon. It shows among other things how to construct a training program, how to approach a competition and offers an Encyclopedia that covers all aspects of triathlon.
This book shows the triathlete and aspiring triathlete everything they need to know about triathlon, whether a sporting novice or an accomplished athlete in another sport. It tells you how to get started, what equipment to buy, the diet you will need, how to devise a training routine and how to arrange your busy life in order to accommodate it, and then explains how to finish a race, as well as how to recover from it. The Complete Book of Triathlon Training will tell you how to be the best that you can be in triathlon; not necessarily by training harder, but by training smarter.

Every aspect of your life has the potential to affect your mental and physical performance, and you need to take this into account when devising your training in order to avoid both over-training and under-training. Mark Kleanthous system for monitoring training-stress levels which he has been successfully using for many years is unique to him but is revealed in this book. Use it and you can achieve your optimum performance.
The Forgotten History of African American Baseball
Call Number: GV 875 .N35 H64 2014
ISBN: 9780313379840
Publication Date: 2011-02-01
For 100 years, African Americans were barred from playing in the premier baseball leagues of the United States - where only Caucasians were allowed. This title takes readers from the origins of African Americans playing the American game of baseball on southern plantations in the pre-Civil War era. Lawrence D. Hogan is senior professor of history at Union County College in Cranford, NJ.
The Soccer Book: the sport, the teams, the tactics, the cups
Call Number: GV 943 .G613 2009
ISBN: 0756650984
Publication Date: 2009-08-31
Whether you want to bend it like Beckham or dribble like Ronaldinho, The Soccer Book is the ultimate visual guide to soccer skills, rules, tactics, and coaching, illustrating every aspect of every variant of the sport more clearly, and in more detail, than any other book has done before.
Total Hockey
Call Number: qGV 847 .T66 2000
ISBN: 9781894963169
Publication Date: 1955-01-01
This is a must-have reference book for any devoted fan of the game of hockey, and a source of countless hours of reading pleasure.
Women in Golf: the players, the history, and the future of the sport
Call Number: GV 966 .H83 2007
ISBN: 9780275997847
Publication Date: 2007-11-01
"In 1894, a group of women in Morristown, New Jersey, organized for themselves a golf club-the first of its kind in the United States. The New York Times reported that it is 'the only golf club in this country that has been completely organized and brought to a point of assured success by ladies.' The women were the members of the so-called Morris County Golf Club and were the officers of the club with the men serving in an advisor capacity.... Only when a woman agreed to 'put up' a man was he allowed to enjoy the privileges of the club.
A Place on the Team - The Triumph and Tragedy of Title IX
Call Number: GV 709.18 .U6 S86 2005
ISBN: 0691117691
Publication Date: 2005-01-31
A Place on the Teamis the inside story of how Title IX revolutionized American sports. The federal law guaranteeing women's rights in education, Title IX opened gymnasiums and playing fields to millions of young women previously locked out. Journalist Welch Suggs chronicles both the law's successes and failures-the exciting opportunities for women as well as the commercial and recruiting pressures of modern-day athletics.Enlivened with tales from Suggs's reportage, the book clears up the muddle of interpretation and opinion surrounding Title IX. It provides not only a lucid description of how courts and colleges have read (and misread) the law, but also compelling portraits of the people who made women's sports a vibrant feature of American life.What's more, the book provides the first history of the law's evolution since its passage in 1972. Suggs details thirty years of struggles for equal rights on the playing field. Schools dragged their feet, offering token efforts for women and girls, until the courts made it clear that women had to be treated on par with men. Those decisions set the stage for some of the most celebrated moments in sports, such as the Women's World Cup in soccer and the Women's Final Four in NCAA basketball.Title IX is not without its critics. Wrestlers and other male athletes say colleges have cut their teams to comply with the law, and Suggs tells their stories as well.With the chronicles of Pat Summitt, Anson Dorrance, and others who shaped women's sports,A Place on the Teamis a must-read not only for sports buffs but also for parents of every young woman who enters the arena of competitive sports.
Anabolic Steroids and the Athlete
Call Number: RC 1230 .T39 2002
ISBN: 0786411287
Publication Date: 2002-01-16
The first edition of this work, published in 1982, concentrated on the athlete's use of and the physician's knowledge of, anabolic steroids. This fully updated second edition discusses the continuing controversy over their use in competitive sports. An introduction of the use and abuse of anabolic steroids is followed by chapters on such topics as anabolic steroid compounds, the anabolic-to-androgen ratio, basic principles of muscle building, current anabolic steroid preparations, anabolic steroid regimes used by athletes, the enhancement of athletic performance, adverse physical effects and mental health risks, the classification of anabolic steroids as controlled substances, growth hormones and other anabolic hormones, the limits of urine drug testing, medical applications of anabolic steroids, muscle building and ergogenic supplements, and addictions.
Anger Management in Sport understanding and controlling violence in athletes
Call Number: RC 451.4 .A83 A27 2010
ISBN: 0736061681
Publication Date: 2010-01-25
Anger management is becoming an increasingly significant area of study in sport. This issue affects all people involved in the sporting environment, yet few sport professionals, coaches, or administrators fully understand anger in sport and how to work with athletes to overcome the problem. Anger Management in Sport: Understanding and Controlling Violence in Athletes addresses this important topic and provides strategies and interventions for overcoming excessive anger and aggression in athletes. The provocative book challenges long-held assumptions and points the way to further research and discussion. With its accessible format and proactive approach, Anger Management in Sport is an ideal resource for practitioners at all levels of sport who work with athletes and anger, both on and off the field. The author draws on his unique background and clinical experiences creating and implementing anger management skills for a variety of populations—from high school athletes to prison inmates. His unique insight will stimulate discussion on a range of issues associated with anger in sport, including mental illness, drugs, and differences and similarities in amateur and professional athletes. Readers will understand not only how to approach an anger problem but also how to help an athlete work to manage emotions. Rather than eliminate old explanations, the book paves the way to a new understanding of issues vital to the health of sport. Chapters 1 and 2 help readers better understand anger and violence and how to assess anger in sport. Anger, aggression, violence, and hostility are defined so that readers will understand the conceptual differences between each. Chapter 3 discusses the athletic culture and how anger is uniquely considered in sports. Readers will recognize some instances of anger in sport through the discussion of such high-profile events as the Baylor University basketball scandal, the O.J. Simpson trial, and the infamous 2004 Pacers-Pistons NBA melee in Detroit involving crowd aggression. Chapters 5 and 6 examine mental illness and drugs in sport. Chapters 7 through 9 tackle anger management programs, systematic interventions for athletes, and prevention of sexual violence. Real-world situations presented in the text will engage readers and help them picture how to use anger management skills in their own lives and careers. By considering the various stakeholders involved and the preventive measures that can be taken, researchers and professionals will step closer to discovering best practices and strategies for anger management in today's sport society. Although helping athletes deal with anger is an important part of sport, there is little research to address the key issues regarding this difficult subject. Anger Management in Sport will help readers understand the causes for anger in sport and how to help athletes who demonstrate aggressive behavior. It will shed light on an uncharted issue and provide direction for future research in the area.
Binge what your college student won't tell you : campus life in an age of disconnection and excess
Call Number: LB 3605 .S383 2005
ISBN: 0471491195
Publication Date: 2005-07-14
In Binge, Barrett Seaman reveals what every parent, student, and educator needs to know about the college experience. Seaman spent time with students at twelve highly regarded and diverse colleges and universities across North America-. During his two years of research, he immersed himself in the lives of the students, often living in their dorms, dining with them, speaking with them on their own terms, and listening to them express their thoughts and feelings. Portraying a campus culture in which today's best and brightest students grapple with far more than academic challenges, Binge conveys the unprecedented stresses on campus today. While sharing revealing interviews and the often dramatic stories, Seaman explores the complexities of romantic relationships and sexual relations, alcohol and drug use, anxiety and depression, class and racial boundaries, and more. Despite the disturbing trends, Seaman finds reasons for optimism and offers provocative and well-informed suggestions for improving the undergraduate experience. Sometimes alarming, always fascinating, and ultimately hopeful, Binge is an extraordinary investigative work that reveals the realities of higher education today.
Crossing the Line: violence and sexual assault in Canada's national sport
Call Number: GV 848.4 .C2 R63 1998
ISBN: 077107560X
Publication Date: 1998-10-17
The world of junior and professional hockey will never be the same since Sheldon Kennedy of the Boston Bruins revealed that, while a junior player with the Swift Current Broncos, he was molested more than 300 times by his coach, Graham James. This revelation, and James's subsequent conviction, has thrown a spotlight on the other "Hockey Night in Canada," where abuse of and by young players is appallingly common. InCrossing the Line, Laura Robinson takes an unflinching look at abuse in junior hockey, the breeding ground for the NHL. She explains how this great sport has gone so bad, and challenges those who are a part of the world of hockey to rethink the game and consider ways to fix it. The abuse takes many forms. It may be overtly sexual. It may be an overwhelming pressure on players – removed from the support of their families and often living far from home – to perform and to fit in. It often takes the form of degrading hazing rituals, many of which have violent sexual overtones, designed to take the players beyond their inhibitions and the normal limits of their aggression. Robinson shows how the institutionalized abuse in hockey turns the players themselves into abusers. Yet when accusations are levelled against the players, team managers and owners rally around to protect them, applying pressure to have the charges dropped or the accuser discredited. Junior hockey and the NHL are arenas for the display of what we consider to be ideal manhood. InCrossing the Line, Laura Robinson shows how damaging it can be when the participants in this often violent spectacle are unleashed on the real world.
Drugs and Sports
Call Number: RC 1230 .P36 2007
ISBN: 0816065756
Publication Date: 2007-05-01
Although media headlines associate the use of performance-enhancing drugs with high-profile professional athletes, this problem affects all segments of society. Scandals have publicized a problem that even extends to young boys and girls who attempt to mimic their athletic heroes or use drugs as a way to achieve what they believe is an athletic physique often causing extensive damage to their physical and emotional health. Many amateur athletes and Olympians have also relied on illegal performance-enhancing drugs in the past, and now their careers are characterized by questions and controversy surrounding their personal or professional ethics. Drugs and Sports provides an overview of the history of this topic, as well as the opinions surrounding it. From the performance-enhancement methods of the ancient Greeks to the recent accusations of drug use among high-profile professional athletes, this illuminating volume puts this timely issue in context. Contemporary case studies provide multiple perspectives and decisions surrounding this issue while also plotting a course for how drug use in sports will change with advances in technology. Drugs and Sports addresses all sides of this issue, making this the perfect reference for students, teachers, librarians, medical personnel, activists, policymakers, and general readers interested in this topic. Coverage includes: Whether performance-enhancing drug use has become a problem comparable to that of well-known narcotics Whether or not teens are encouraged to use performance-enhancing drugs by professional athletes The role of sports leagues and the government in controlling these substances The case against performance-enhancing drugs and whether it has been grossly overstated.
HIV/AIDS in Sport : impact, issues, and challenge
Call Number: RA 644 .A25 H575523 1999
ISBN: 0880117494
Publication Date: 1998-12-30
Now you can sort through the many complex issues regarding HIV, AIDS, and sport with this definitive, multidisciplinary book. You'll learn the medical facts about HIV and AIDS and discover the important role you play in prevention and control of HIV. HIV/AIDS in Sport debunks common myths and enables you to establish standardized guidelines that take medical, ethical, and legal concerns into account. With HIV/AIDS in Sport, you will learn: -Epidemiological, immunological, and clinical aspects of HIV/AIDS -How to deal with social, psychological, and legal issues regarding HIV/AIDS -How to establish appropriate guidelines for testing -Where to find resources including national and state organizations, hotlines, and websites You will also learn the personal stories of high-profile athletes who have been afflicted with HIV, including Earvin "Magic" Johnson, Arthur Ashe, and Greg Louganis. This section—along with a personal account of a group of non-professional athletes who are living with HIV/AIDS—offers an evocative portrait of the emotional, social, and psychological dimensions of the disease from the perspective of both sports professionals and amateur athletes. The book also explores a wide range of issues, including whether HIV-positive athletes should participate in sports, ethical decision making and policy implementation, the effects of HIV and exercise on the immune system, and legal issues. The book's resource section includes national organization contacts, state hotlines, and websites. Drawing from the knowledge of experts in diverse disciplines including health, sports medicine, law, sociology, philosophy, and psychology, this concise book answers all your questions surrounding the complex relationship between sport and HIV/AIDS.
Performance Enhancing Drugs
Call Number: RC 1230 .P476 2008
ISBN: 0737736941
Publication Date: 2007-12-05
Primary and secondary sources address a variety of perspectives on the use of performance enhancing drugs.
Selling the Five Rings: the International Olympic Committee and the rise of Olympic commercialism
Call Number: GV 721.5 .B32 2002
ISBN: 0874807131
Publication Date: 2002-03-14
The original scheme for the modern Olympic Games was hatched at an international sports conference at the Sorbonne in June 1894. At the time, few provisions were made for the financial underwriting of the project--providence and the beneficence of host cities would somehow take care of the costs. For much of the first century of modern Olympic history, this was the case, until the advent of television and corporate sponsorship transformed that idealism. Now, linking with the five-ring logo is good business. Advertising during the Olympic Games guarantees a global audience unmatched in size by any other sports audience in the world. However, if the image begins to tarnish and the corporate sector loses interest, television companies can't sell advertising to business interests. This was the greatest threat posed by the scandal surrounding Salt Lake City's bid. Selling the Five Rings outlines the rise of the Olympic movement from an envisioned instrument of peace and brotherhood, to a transnational commercial giant of imposing power and influence. Using primary source documents such as minutes of the IOC General Sessions, minutes and reports of various IOC sub-committees and commissions concerned with finance, reports of key marketing agencies, and the letters and memoranda written to and by the major figures in Olympic history, the authors track the history of a fascinating global institution.
Should College Athletes Be Paid?
Call Number: GV 350 .S36 2008
ISBN: 0737737891
Publication Date: 2007-11-30
Provides essays that offer different opinions about whether or not college athletes should be allowed to receive financial compensation and other benefits, including endorsement deals and scholarships.
Sporting Equality: Title IX thirty years later
Call Number: GV 709.18 .U6 S67 2005
ISBN: 076580848X
Publication Date: 2005-01-10
As part of its Education Amendments, the United States Congress passed Title IX in 1972 to ensure that no person should be discriminated against in any education program or activity receiving federal financial assistance. In the decades since, Title IX has had, among other effects, a marked increase on school athletic programs for women and girls at both the high school and college level. Despite this, a range of questions have been raised about the effectiveness of the federal government's enforcement, and also the impact on male athletics. The government can enact legislation, but how it works remains the domain of administrators at one end and thousands of athletes at the other. Sporting Equality reviews the impact of Title IX thirty years after its passage, and suggests future areas of contention. This new title includes the major findings and recommendations of the Secretary of Education's Commission on Opportunities in Athletics established in 2002, as well as the commission's minority report. These contributions are followed by seven chapters that analyze and assess the strength and weakness of Title IX and offer recommendations for strengthening or changing its goals and objectives. These include: Kimberly A. Yuracko, "Title IX and the Problem of Gender Equality in Athletics"; Eric C. Dudley, Jr. and George Rutherglen, "A Comment on the Report of the Commission to Review Title IX"; Barbara Murray, "How to Evaluate the Implementation of Title IX at Colleges and Universities and Attitudes and Interest of Students Regarding Athletics"; John J. Cheslock and Deborah Anderson, "Lessons From Research on Title IX and Intercollegiate Athletics"; Valerie M. Bonnette, "The Little Fusses Over Title IX." The book concludes with two controversial chapters. The first, by Leo Kocher, argues that Title IX has been detrimental to male athletics, especially gymnastics, swimming, wrestling, and track, while the second by Ellen J. Staurowsky claims that Title IX has not gone far enough in providing women athletes with the equality they deserve. This volume will be of interest to specialists in the sociology of sports, women's studies scholars, and sports educators.
The Dark Side of the Game: my life in the NFL
Call Number: GV 955.5 .N35 G74 1996 /
ISBN: 0446520330
Publication Date: 1996-08-01
"Millions watch it. Billions are spent on it. Yet few fans know what life is really like in the NFL. Now an eight-year veteran of the game and a rising sports media superstar reveals - for the first time - the pathos, the horror, the abuses, and the wonder of the sport they call professional football." "Fame and fortune, satisfaction, and thrills define the dream of playing in the NFL. But there's a dark side to that dream. And no one knows it better than Tim Green, former defensive end for the Atlanta Falcons, a featured color analyst for Fox Sports, and National Public Radio's weekly NFL commentator." "Unreported things happen during the season when the player is on the field - and on the sidelines and in the locker rooms. Unreported things also happen during the 149 days of the year when the player is not on the field. All of it takes its toll on the human body and spirit. In professional football, there is a price and it must be paid." "Here's the play-by-play the NFL powers-that-be don't want you to know: the futility of training camp - and the outrageous lengths players go to get out of it; the paradoxes of pain protection - goodbye padding, hello drugs; the untold war inside every team between the offensive and defensive squads; the truth about groupies and NFL players; the thriving perfect partnership between the mob and the NFL; what the salary cap really is - and why players hate it; the best - and worst - places to play in the NFL; and the score on racism, AIDS, gambling, steroids, and life after football."--BOOK JACKET.Title Summary field provided by Blackwell North America, Inc. All Rights Reserved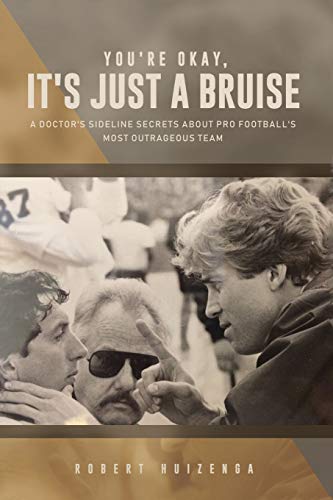 You're Okay, It's Just a Bruise: a doctor's sideline secrets about pro football's most outrageous team
Call Number: RC 1220 .F6 H85 1994
ISBN: 0312113536
Publication Date: 1994-09-01
"Rob Huizenga was hired by the Los Angeles Raiders in 1983 as the team internist working on the sidelines and in the locker room at every game." "Huizenga's job took him far outside the usual doctor's rounds. From evaluating the health of top draft picks, to reviving players felled on the gridiron, to calming enraged 290-pound linemen nicknamed Killer and The Grim Reaper, Huizenga had a unique perspective on the game. Privy to hilarious anecdotes about the lives of players on and off the field, Huizenga also saw a darker side: a sport where athletes play despite serious injuries, fearful of losing their positions, and where medicine can be compromised by the demand to "Just win, baby.""--BOOK JACKET.Title Summary field provided by Blackwell North America, Inc. All Rights Reserved
The Steroids Game
Call Number: RC 1230 .Y47 1998
ISBN: 0880114940
Publication Date: 1998-03-20
A straightforward and balanced view of the problem of anabolic steroid use among athletes. The authors define the problem, suggest solutions and treatments for users, and examine drug testing and how users have managed to stay one step ahead of governing bodies.