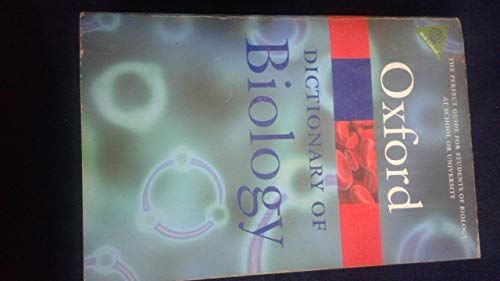 Dictionary of Biology
Call Number: QH302.5 .D54 2008
ISBN: 9780199204625
Publication Date: 2008-03-15
Fully revised and updated for the sixth edition, this market-leading dictionary is the perfect guide for anyone studying biology, either at school or university. With over 5,200 clear and concise entries, over 300 of them new to this edition, it provides comprehensive coverage of biology,biophysics, and biochemistry. Features include biographical entries on key scientists and highlighted entries on important topics such as bioinformatics, genomics, molecular evolution, and protein structure, with further reading suggestions. Appendices include classification of the animal and plantkingdoms; geological timescale; major mass extinctions of species; model organisms and their genomes; and Nobel prizewinners - the last two new to this edition.
Barnes and Noble Thesaurus of Biology: the principles of biology explained and illustrated
Call Number: QH 302.5 .G87 1983
ISBN: 0060152133
Publication Date: 1983-01-01
Biology Data Book
Call Number: qQH 310 .A392 v. 1 - v. 2
ISBN: 0913822078
Publication Date: 1972-01-01
Ecology and Field Biology
Call Number: qQH 541 .S6 1996
ISBN: 0065009762
Publication Date: 1997-01-07
This text presents a comprehensive overview of all aspects of ecology, including evolution, ecosystems, theory, practical applications, plants and animals. Major topics such as the importance of statistical power tests in ecological studies, the effects of impoundments on river ecology, and intraguild predation are covered.
Henderson's Dictionary of Biology
Call Number: QH 302.5 .H45 2005
ISBN: 0131273841
Publication Date: 2005-09-01
The thirteenth edition of this classic dictionary, first published eighty years ago, has been updated throughout, rewritten for clarity and reorganised to make it even easier to use.
Marine Biology
Call Number: qQH 91 .C37 2000
ISBN: 0070121974
Publication Date: 1999-06-30
This introductory text takes a global approach in demonstrating how the oceans function as a part of a global, integrated system. Using examples from numerous regions and ecosystems worldwide, the book seeks to illustrate the ocean's importance to humanity.
Parasitology and Vector Biology
Call Number: qQR 251 .P25 2001
ISBN: 0124732755
Publication Date: 1999-07-22
Parasitology and Vector Biology, Second Edition, is a comprehensive introduction to human and animal parasitology. It provides basic information on the biologies of such agents as protists, worms, and arthropods, but it also emphasizes how control programs can be structured in a sociological, political, and economic milieu. Students and researchers alike will appreciate the added coverage of the molecular aspects of parasitology in this new edition. * Includes more than 400 photos and drawings * Contains sidebars that discuss various aspects of parasitic disease * Discusses the real-world control of parasitic diseases, within biological, social, and economic contexts * Offers an expanded discussion of vector biology * Includes an extensive glossary * Consistent, logical organization allows the student ready access to important material
The Biology of the Deep Ocean
Call Number: QH 91 .H44 2002
ISBN: 0198549555
Publication Date: 2002-02-21
Erratum: Table 11.1 on page 241 has been mis-set. The entries for the phyla Annelida, Bryozoa, Cnidaria, Echiura, Mollusca, Placozoa, Porifera and Rotifera should all be moved one column to the right. The deep sea environment is the most extensive on our planet. Its denizens are normally unseen but whenever they are exposed to view they are regarded as bizarre aliens from a different world. The Biology of the Deep Ocean takes a close look at this apparently hostile world and explainshow its inhabitants are exquisitely adapted to survive and flourish within it.
Visualizing Human Biology
Call Number: qQP 34.5 .I74 2010
ISBN: 9780470390740
Publication Date: 2009-01-14
Visualizing Human Biology engages medical professionals to connect the science to their own lives through stunning visuals. It presents the important concepts of human biology as they relate to the world we live in. The role of the human in the environment is stressed throughout, ensuring that topics such as evolution, ecology, and chemistry are introduced in a non-threatening and logical fashion.The second edition includes revised art that helps make the concepts easier to understand, and additional visualizing features have been integrated throughout the chapters. The material has also been streamlined, making this a concise resource for medical professionals.
Books from the Warner University Library
Rebels, Mavericks, and Heretics in Biology
Call Number: QH 305 .R43 2008
ISBN: 9780300116397
Publication Date: 2008-06-19
This book is the first devoted to modern biology's innovators and iconoclasts: men and women who challenged prevailing notions in their fields. Some of these scientists were Nobel Prize winners, some were considered cranks or gadflies, some were in fact wrong. The stories of these stubborn dissenters are individually fascinating. Taken together, they provide unparalleled insights into the role of dissent and controversy in science and especially the growth of biological thought over the past century. nbsp; Each of the book's nineteen specially commissioned chapters offers a detailed portrait of the intellectual rebellion of a particular scientist working in a major area of biology--genetics, evolution, embryology, ecology, biochemistry, neurobiology, and virology as well as others. An introduction by the volume's editors and an epilogue by R. C. Lewontin draw connections among the case studies and illuminate the nonconforming scientist's crucial function of disturbing the comfort of those in the majority. By focusing on the dynamics and impact of dissent rather than on #147;winners" who are credited with scientific advances, the book presents a refreshingly original perspective on the history of the life sciences. nbsp; Scientists featured in this volume: Alfred Russel Wallacenbsp; Hans Driesch Wilhelm Johannsen Raymond Arthur Dart C. D. Darlington Richard Goldschmidt Barbara McClintock Oswald T. Avery Roger Sperry Leon Croizat Vero Copner Wynne-Edwards Peter Mitchell Howard Temin Motoo Kimura William D. Hamilton Carl Woese Stephen Jay Gould Thelma Rowell Daniel S. Simberloff
Recent Advances and Issues in Biology
Call Number: QH 307.2 .M47 2000
ISBN: 1573562343
Publication Date: 2000-05-31
"...helpful for the librarian as well as the students who need a brief introduction to these advances and issues in biology."- The GaleGroup
The Cambridge Dictionary of Human Biology and Evolution
Call Number: QP 34.5 .M24 2004
ISBN: 0521664861
Publication Date: 2005-06-23
Packed with 13000 descriptions of terms, specimens, sites and names, this invaluable research and study tool covers a broad range of subjects including human biology, physical anthropology, primatology, physiology, genetics, paleontology and zoology. The volume also includes over 1000 word roots, taxonomies and reference tables for extinct, recent and extant primates, and illustrations of landmarks, bones and muscles. It is essential for students, researchers, and anyone with an interest in human biology or evolution.
Variation: A central concept in biology
Call Number: QH 401 .V37 2005
ISBN: 0120887770
Publication Date: 2005-06-24
Darwin's theory of evolution by natural selection was based on the observation that there is variation between individuals within the same species. This fundamental observation is a central concept in evolutionary biology. However, variation is only rarely treated directly. It has remained peripheral to the study of mechanisms of evolutionary change. The explosion of knowledge in genetics, developmental biology, and the ongoing synthesis of evolutionary and developmental biology has made it possible for us to study the factors that limit, enhance, or structure variation at the level of an animals' physical appearance and behavior. Knowledge of the significance of variability is crucial to this emerging synthesis. This volume situates the role of variability within this broad framework, bringing variation back to the center of the evolutionary stage. ·Provides an overview of current thinking on variation in evolutionary biology, functional morphology, and evolutionary developmental biology ·Written by a team of leading scholars specializing on the study of variation ·Reviews of statistical analysis of variation by leading authorities ·Key chapters focus on the role of the study of phenotypic variation for evolutionary, developmental, and post-genomic biology