A Chemical History Tour: picturing chemistry from alchemy to modern molecular science
Call Number: qQD 11 .G74 2000
ISBN: 0471354082
Publication Date: 2000-03-07
Take a stroll through this one-of-a-kind book that offers readers an illustrated tour of how chemistry developed, from alchemy to the emergence of chemistry as a scientific discipline in the early 17th century, and, finally, modern-day chemistry. Discover this rare collection of more than 180 illustrations spanning 400 years of chemical publications, with each illustration accompanied by an essay discussing its significance in the context of historical scientific beliefs as well as modern chemical science. The author's knowledge and enthusiasm for the books, images, and subject matter are clearly reflected throughout the very readable, informative, and frequently funny essays. High-quality, full-page reproductions from the author's art collection, published from 1599 to the present, are eloquently displayed.
Atoms and Alchemy
Call Number: Q 125 .N484 2006
ISBN: 0226576965
Publication Date: 2006-05-15
Since the Enlightenment, alchemy has been viewed as a sort of antiscience, disparaged by many historians as a form of lunacy that impeded the development of rational chemistry. But in Atoms and Alchemy, William R. Newman—a historian widely credited for reviving recent interest in alchemy—exposes the speciousness of these views and challenges widely held beliefs about the origins of the Scientific Revolution.nbsp; Tracing the alchemical roots of Robert Boyle's famous mechanical philosophy, Newman shows that alchemy contributed to the mechanization of nature, a movement that lay at the very heart of scientific discovery. Boyle and his predecessors—figures like the mysterious medieval Geber or the Lutheran professor Daniel Sennert—provided convincing experimental proof that matter is made up of enduring particles at the microlevel. At the same time, Newman argues that alchemists created the operational criterion of an "atomic" element as the last point of analysis, thereby contributing a key feature to the development of later chemistry.nbsp; Atoms and Alchemy thus provokes a refreshing debate about the origins of modern science and will be welcomed—and deliberated—by all who are interested in the development of scientific theory and practice.
Before Big Science
Call Number: QD 11 .N94 1996
ISBN: 080579512X
Publication Date: 1996-09-24
"In this book, Mary Jo Nye traces the social and intellectual history of the physical sciences from the early nineteenth century to the beginning of the Second World War. Nye examines the sweeping transformation of scientific institutions and professions during the period and the groundbreaking experiments and scientific investigations that fueled that change, from the earliest investigations of molecular chemistry and field dynamics to the revolutionary breakthroughs of quantum mechanics, relativity theory, and nuclear science. Nye intersperses the narrative of these developments with profiles of key figures of modern science, from Dalton to Pasteur to Einstein to Bohr. Notable features of the book include an insightful analysis of the parallel trajectories of modern chemistry and physics and the work of scientists - such as John Dalton, Michael Faraday, Hermann von Helmholtz, Marie Curie, Ernest Rutherford, Dorothy Hodgkin, and Linus Pauling - who played prominent roles in the development of both disciplines."--BOOK JACKET.Title Summary field provided by Blackwell North America, Inc. All Rights Reserved
Biochemistry Demystified
Call Number: QP 514.2 .W345 2008
ISBN: 9780071495998
Publication Date: 2008-07-17
Learn BIOCHEMISTRY without stressing out your brain CELLS Trying to understand the chemical processes of living organisms but having trouble metabolizing the complex concepts? Here's your lifeline! Biochemistry Demystified helps synthesize your understanding of this important topic. You'll start with a review of basic chemical concepts and a look at cell structures and cell division. Next, you'll study carbohydrates, lipids, proteins, nucleic acids, nucleotides, and enzymes. Glycolysis, the citric acid cycle, oxidative phosphorylation, and the control of chemical processes round out the coverage. Hundreds of examples and illustrations make it easy to understand the material, and end-of-chapter questions and a final exam help reinforce learning. This fast and easy guide offers: Numerous figures to illustrate key concepts Details on DNA and RNA Coverage of hormones and neurotransmitters A chapter on analytical techniques and bioinformatics A time-saving approach to performing better on an exam or at work Simple enough for a beginner, but challenging enough for an advanced student, Biochemistry Demystified is your key to mastering this vital life sciences subject.
Chasing Molecules: poisonous products, human health, and the promise of green chemistry
Call Number: RA 1226 .G76 2009
ISBN: 9781597263702
Publication Date: 2009-09-07
Each day, headlines warn that baby bottles are leaching dangerous chemicals, nonstick pans are causing infertility, and plastic containers are making us fat. What if green chemistry could change all that? What if rather than toxics, our economy ran on harmless, environmentally-friendly materials?   Elizabeth Grossman, an acclaimed journalist who brought national attention to the contaminants hidden in computers and other high tech electronics, now tackles the hazards of ordinary consumer products. She shows that for the sake of convenience, efficiency, and short-term safety, we have created synthetic chemicals that fundamentally change, at a molecular level, the way our bodies work. The consequences range from diabetes to cancer, reproductive and neurological disorders.   Yet it's hard to imagine life without the creature comforts current materials provide—and Grossman argues we do not have to. A scientific revolution is introducing products that are "benign by design," developing manufacturing processes that consider health impacts at every stage, and is creating new compounds that mimic rather than disrupt natural systems. Through interviews with leading researchers, Grossman gives us a first look at this radical transformation.   Green chemistry is just getting underway, but it offers hope that we can indeed create products that benefit health, the environment, and industry.  
Chasing the Molecule
Call Number: QD 461 .B89 2004
ISBN: 0750933453
Publication Date: 2004-06-25
In the Fifties, a tremendous conceptual breakthrough was about to take place in science, revolutionising the way we think about the molecules of life. The story ranged across laboratories throughout Europe in which the protagonists built molecular models that promised to unlock the natural world's secrets. When the breakthrough finally occurred, some of the participants became widely honoured, while others were unjustly neglected and died in obscurity. This all happened in the 1850s, not the 1950s.
Chemistry
Call Number: QD 31.2 .N49 1999
ISBN: 1573561606
Publication Date: 1998-12-11
Research chemists make important discoveries every year, and their colleagues in chemical engineering and technology use chemistry to develop innovative solutions to a wide range of everyday challenges. This book describes the major breakthroughs in chemistry and chemical technology that have occurred over the past several years. It provides an excellent, in-depth overview of current developments in the field of chemistry and a closer look at the brilliant and creative men and women who make them happen. Also included is a series of lively and interesting biographical sketches of current leaders in the field, including some recent Nobel Prize winners in chemistry. Diagrams, photos, and other illustrations enhance the text.
Chemistry Connections: the chemical basis of everyday phenomena
Call Number: QD 37 .K34 2000
ISBN: 0124008607
Publication Date: 1999-07-23
Chemistry Connections: The Chemical Basis of Everyday Phenomena highlights the fundamental role of chemistry in our everyday experiences and observations by posing and answering some provocative and topical questions. This is a valuable supplementary text for any general chemistry course (for majors and non-majors) and for any course designed to acquaint students with how chemistry and science affect their lives. Introductory chemistry students and educators, as well as laypersons with an inquisitiveness about the world around them, will find Chemistry Connections an informative introduction to the context of chemistry in their lives. * A question-and-answer format of topical subjects to engage the reader * General explanations in accessible terms to highlight the chemical principles to provide specific details for a more in-depth interpretation * Indexing of questions according to key principles or terms to enhance instructional use * Figures and chemical structures to illustrate further the chemical concepts presented * References to related World Wide Web sites for further explanation
Chemistry of the Environment
Call Number: TD 193 .C4853 2002
ISBN: 0120734613
Publication Date: 2002-03-21
Emphasizing new science essential to the practice of environmental chemistry at the beginning of the new millennium, this book describes the atmosphere as a distinct sphere of the environment and the practice of industrial ecology as it applies to chemical science. It includes extensive coverage of nuclear chemistry, covering both natural environmental sources and anthropogenic sources, their impacts on health, and their role in energy production, that goes well beyond the newspaper coverage to discuss nuclear chemistry and disposal in a balanced and scientifically rational way. * This is the only environmental chemistry text to adequately discuss nuclear chemistry and disposal in a balanced and scientifically rational way. * The overall format allows for particular topics to be omitted at the discretion of the instructor without loss of continuity. * Contains a discussion of climate history to put current climate concerns in perspective, an approach that makes current controversy about climate change more understandable.
CRC Handbook of Chemistry and Physics
Call Number: qQD 65 .C88 2008
ISBN: 9781420066791
Publication Date: 2008-06-17
The CRC Handbook of Chemistry and Physics, 89th Editioncontinues to offer the most authoritative, up-to-date data to scientists around the world. This edition contain revisions, updates, and expansions as well as ten new tablesof data on molecular structure, biochemistry, environmental issues, material properties, and more. Major revisions include newly approved fundamental physical constants, properties of fatty acids, bond dissociation energies, and molecular structures of free molecules. New tables includeEnergy Content of Fuels, Global Warming Potential of Greenhouse Gases, Weather-Related Scales, Index of Refraction of Gases, Molecular Internal Rotation, Atomic Radii of Elements, Composition and Properties of Various Natural Oils and Fats, Melting Curve of Mercury, Properties of Gas Clathrate Hydrates, Enthalpyof Hydration of Gases, and Properties of Graphite and Nanotubes.
Books from the Warner University Library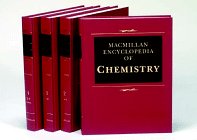 Macmillan Encyclopedia of Chemistry
Call Number: qQD 4 .M33 1997 v. 1 - v. 4
ISBN: 0028972252
Publication Date: 1997-09-01
This unique 4-vol. set offers readers a complete overview of the broad spectrum of general chemistry. It enables them to obtain a basic yet thorough understanding of matter, the processes it undergoes, the principles that govern it and scientists who have been critical in the development of the field. Ninety-five biographical articles deal with prominent chemists, while other articles provide additional historical context, particularly with respect to 18th, 19th and 20th-century developments.
March's Advanced Organic Chemistry
Call Number: QD 251.2 .M37 2001
ISBN: 0471585890
Publication Date: 2001-01-11
From the reviews of the Fourth Edition ... "March has been uncompromising in his search for clarity and utility in presentations of a wide variety of essential organic chemistry. It remains an accessible and useful tool for both specialists and nonspecialists in the field. It does an excellent job both as a text for first-year graduate students and a handy reference for others."-Journal of Chemical Education "The ratio of information to price makes this book a wonderful bargain."-American Scientist New to this Fifth Edition: * Michael Smith from the University of Connecticut joins as coauthor for the Fifth Edition * Contains 20,000 valuable, selected references to the primary literature-5,000 new to this edition * 40 entirely new sections covering the most important developments in organic chemistry since the previous edition * Updated illustrations of molecular structures
Organic Chemistry
Call Number: qQD 253.2 .S65 2006
ISBN: 0072397462
Publication Date: 2004-12-01
This text presents organic chemistry information in the form of bulleted lists and tables. It offers biological, medicinal, and environmental applications.
Organic Chemistry: based on Schaum's Outline of organic chemistry by Herbert Meislich, Howard Nechamkin, and Jacob Sharefkin
Call Number: QD 256.5 .O74 2000
ISBN: 0070527180
Publication Date: 1999-10-11
Boiled-down essentials of the top-selling Schaum's Outline series for the student with limited time What could be better than the bestselling Schaum's Outline series? For students looking for a quick nuts-and-bolts overview, it would have to be Schaum's Easy Outline series. Every book in this series is a pared-down, simplified, and tightly focused version of its predecessor. With an emphasis on clarity and brevity, each new title features a streamlined and updated format and the absolute essence of the subject, presented in a concise and readily understandable form. Graphic elements such as sidebars, reader-alert icons, and boxed highlights stress selected points from the text, illuminate keys to learning, and give students quick pointers to the essentials. Designed to appeal to underprepared students and readers turned off by dense text Cartoons, sidebars, icons, and other graphic pointers get the material across fast Concise text focuses on the essence of the subject Delivers expert help from teachers who are authorities in their fields Perfect for last-minute test preparation So small and light that they fit in a backpack!
Tables of physical and chemical constants and some mathematical functions;
Call Number: QC 61 .K3 1973
Publication Date: 1973
Stmt. of Resp.: originally compiled by G. W. C. Kaye and T. H. Laby, now prepared under the direction of an editorial committee. Publisher: Longman
The Joy of Chemistry: the amazing science of familiar things
Call Number: QD 35 .C56 2005
ISBN: 1591022312
Publication Date: 2005-02-01
This book challenges the perception of chemistry as too difficult to bother with and too clinical to be any fun. Cathy Cobb and Monty L. Fetterolf, both professional chemists and experienced educators, introduce readers to the magic, elegance, and, yes, joy of chemistry. From the fascination of fall foliage and fireworks, to the functioning of smoke detectors and computers, to the fundamentals of digestion (as when good pizza goes bad!), the authors illustrate the concepts of chemistry in terms of everyday experience, using familiar materials.
Van Nostrand's Encyclopedia of Chemistry
Call Number: qQD 4 .V36 2005
ISBN: 0471615250
Publication Date: 2005-02-03
Scientists, engineers, and technologists in many fields need a knowledge of chemistry because of the importance of chemistry in diverse technologies. In addition, to "classical" topics of chemistry, the new Encyclopedia covers nanotechnology, fuel cell technology, green chemistry, forensic chemistry, supramolecular chemistry, combinatorial chemistry, materials chemistry, and proteomics. This fifth print edition has been revised and updated, and includes over 200 new articles, as well as 1,300 updated articles.
Van Nostrand's Scientific Encyclopedia
Call Number: qQ 121 .V3 2002 A-K v. 1 - V. 2
ISBN: 0471332305
Publication Date: 2002-07-01
Extensively updated and revised, this outstanding reference remains the definitive scientific resource for both academic and professional environments Van Nostrand's Scientific Encyclopedia has long enjoyed a reputation as one of the most important comprehensive general scientific references available. Substantially revised to cover the many developments since the Eight Edition in 1994, this Ninth Edition ranges across all scientific disciplines as well as many areas of engineering and technology. Topics covered include animal science, anatomy, astronomy, atmospheric science, chemistry, chemical engineering, civil engineering, computer science, earth science, energy sources, information science, life science, materials, mathematics, mechanical engineering, medicine, mining, physics, physiology, planetary science, plant science, power technology, space science, structural engineering, and a host of other subjects. Existing material has been extensively revised for this new edition, and numerous new articles bring the Encyclopedia up-to-date on the latest developments and state-of-the-art knowledge in every discipline. An expanded subject index makes information easier to find. An extensive revision program makes this series an important addition to personal as well as institutional libraries in both academic and industrial settings.
Vanity, Vitality, and Virility: the science behind the products you love to buy
Call Number: QD 75.22 .E47 2004
ISBN: 0192805096
Publication Date: 2004-07-01
What is the secret of shower cleaners? How does the dangerous explosive nitroglycerin ward off heart attacks? And what medicines, usually prescribed for other purposes, are said to produce the ultimate orgasm? In Vanity, Vitality, and Virility, award-winning science writer John Emsley offers a fascinating behind-the-scenes account of 30 chemicals that we use everyday to make ourselves more beautiful, to improve our diet and sexual pleasure, to kill germs, and to ward off depression and other mental illnesses. Emsley looks at common compounds such as alpha-hydroxy acids, vitamin C, chlorine bleach, and Prozac, telling us if they work, how they work, and how they were discovered. Indeed, the book is packed with useful information and easy-to-digest science, and Emsley relates it all with a light touch that delights in the odd fact or amusing anecdote. Thus we learn of the "vitamin C tights" sold in Japan to make your legs more beautiful (they don't work) and of the whimsical Hungarian scientist who first isolated vitamin C and wanted to name it "godnose"--because he had no idea what the compound was. We discover that Cleopatra was right to bath in milk, which is filled with alpha-hydroxy acids. And we read about the unforgettable British researcher who demonstrated a powerful new drug for male erections at a Las Vegas convention--injecting himself with the compound and then "displaying the results" to a stunned lecture hall. As with the much-loved Nature's Building Blocks, in John Emsley's hands, chemistry comes alive. Anyone curious about the ingredients in the products we use, and everyone fascinated with science, will be enthralled by this book.