Books from the Warner University Library
Biochemistry Demystified
Call Number: QP514.2 .W345 2008
ISBN: 0071495991
Publication Date: 2008-07-17
Learn BIOCHEMISTRY without stressing out your brain CELLS Trying to understand the chemical processes of living organisms but having trouble metabolizing the complex concepts? Here's your lifeline! Biochemistry Demystified helps synthesize your understanding of this important topic. You'll start with a review of basic chemical concepts and a look at cell structures and cell division. Next, you'll study carbohydrates, lipids, proteins, nucleic acids, nucleotides, and enzymes. Glycolysis, the citric acid cycle, oxidative phosphorylation, and the control of chemical processes round out the coverage. Hundreds of examples and illustrations make it easy to understand the material, and end-of-chapter questions and a final exam help reinforce learning. This fast and easy guide offers: Numerous figures to illustrate key concepts Details on DNA and RNA Coverage of hormones and neurotransmitters A chapter on analytical techniques and bioinformatics A time-saving approach to performing better on an exam or at work Simple enough for a beginner, but challenging enough for an advanced student, Biochemistry Demystified is your key to mastering this vital life sciences subject.
Biochemistry: a case-oriented approach
Call Number: QP514.2 .B56 1977
ISBN: 0801634695
Publication Date: 1977-01-01
Chemistry demystified
Call Number: QD37 .W48 2011
ISBN: 9780071751308
Publication Date: 2011-05-02
A PROVEN formula for mastering CHEMISTRY Trying to understand chemistry but feel like the information's just not bonding with your brain? Here's your solution. Chemistry Demystified, Second Edition, helps you grasp both fundamental and complex concepts with ease. Written in a step-by-step format, this practical guide first covers atomic theory, elements, symbols, and the Periodic Table of the Elements. The book then delves into solids, liquids, gases, solutions, orbitals, chemical bonds, acids, and bases. Electrochemistry, thermodynamics, biochemistry, and organic, environmental, and nuclear chemistry are discussed. In-depth examples, detailed illustrations, and worked-out problems make it easy to understand the material, and end-of-chapter quizzes and a final exam help reinforce learning. It's a no-brainer! You'll learn about: Molecular and structural formulas Metallurgy Gas laws Molar mass Molecular orbital theory Covalent and ionic bonds Oxidation/reduction The laws of thermodynamics Organic reactions Biological and environmental markers Simple enough for a beginner, but challenging enough for an advanced student, Chemistry Demystified, Second Edition, helps you master this fascinating subject.
Darwin's Black Box: the biochemical challenge to evolution
Call Number: QH325 .B365 1998
ISBN: 0684834936
Publication Date: 1998-03-20
Questioning how evolution can explain the complex chemical processes scientists are finding in humans using new technology, the author presents an argument for creation by either God or another higher intelligence.
Dictionary of Biology
Call Number: QH302.5 .D54 2008
ISBN: 9780199204625
Publication Date: 2008-03-15
Fully revised and updated, this new sixth edition is the perfect guide for those studying biology either in high school or college. The Dictionary offers more than 5,500 clear and concise entries, including more than 300 entries new to this edition. It provides comprehensive coverage of biology, biophysics, and biochemistry, includes biographical entries on key scientists, and features highlighted entries on important topics such as bioinformatics, genomics, molecular evolution, and protein structure. The new edition also features web links accessed via a companion website, featuring additional information that is regularly updated to ensure that it stays fresh. The volume also has many appendices, including a list of useful web sites, mass extinctions of species, and SI units, plus entirely new appendices on model organisms and their genomes and on Nobel prizewinners.
Laboratory Experiments for Introduction to General, Organic and Biochemistry
Call Number: qQD 31.3 .I585 2013
ISBN: 9781133106029
Publication Date: 2012-01-01
The 48 experiments in this well-conceived manual illustrate important concepts and principles in general, organic, and biochemistry. As in previous editions, three basic goals guided the development of all the experiments: (1) the experiments illustrate the concepts learned in the classroom; (2) the experiments are clearly and concisely written so that readers will easily understand the task at hand, will work with minimal supervision because the manual provides enough information on experimental procedures, and will be able to perform the experiments in a 2-1/2 hour laboratory period; and (3) the experiments are not only simple demonstrations, but also contain a sense of discovery. This edition includes many revised experiments and two new experiments.
Lehninger Principles of Biochemistry
Call Number: qQD415 .L44 2008
ISBN: 071677108X
Publication Date: 2008-02-01
In the Fifth Edition, authors Dave Nelson and Mike Cox combine the best of the laboratory and best of the classroom, introducing exciting new developments while communicating basic principles through a variety of new learning tools--from new in-text worked examples and data analysis problems to the breakthrough eBook, which seamlessly integrates the complete text and its media components.
Physiology and Biochemistry of Exercise
Call Number: QP301 .S494 1982
ISBN: 9780030592898
Publication Date: 1982-01-01
Plant Biochemistry and Molecular Biology
Call Number: QK861 .H4513 1997
ISBN: 0198501803
Publication Date: 1998-04-23
This textbook explains the basic principles and major themes in plant biochemistry and molecular biology to students. It provides not only a thorough grounding in the subject to an advanced level, but also describes its many practical applications, for example the use of genetic engineering to improve crop plants and to provide raw materials for the chemical and pharmaceutical industries. The latest research findings have been included wherever possible, and areas of future research are identified. There are full references to the scientific literature.
Schaum's Easy Outline of Biochemistry
Call Number: QP518.3 .B563 2003
ISBN: 0071398759
Publication Date: 2002-08-07
Authoritative. Concise. Easy-to-Use. Schaum's Easy Outlines are streamlined versions of best-selling Schaum's titles. We've shortened the text, broadened the visual appeal, and introduced study techniques to make mastering any subject easier. The results are reader-friendly study guides with all the impressive academic authority of the originals. Schaum's Easy Outlines feature: Concise text that focuses on the essentials of the course Quick-study sidebars, icons, and other instructional aids Sample problems and exercises for review Expert advice from authorities in the field
Soil Microbiology, Ecology and Biochemistry
Call Number: QR111 .P335 2015
ISBN: 0124159559
Publication Date: 2014-11-13
The fourth edition of Soil Microbiology, Ecology and Biochemistry updates this widely used reference as the study and understanding of soil biota, their function, and the dynamics of soil organic matter has been revolutionized by molecular and instrumental techniques, and information technology. Knowledge of soil microbiology, ecology and biochemistry is central to our understanding of organisms and their processes and interactions with their environment. In a time of great global change and increased emphasis on biodiversity and food security, soil microbiology and ecology has become an increasingly important topic. Revised by a group of world-renowned authors in many institutions and disciplines, this work relates the breakthroughs in knowledge in this important field to its history as well as future applications. The new edition provides readable, practical, impactful information for its many applied and fundamental disciplines. Professionals turn to this text as a reference for fundamental knowledge in their field or to inform management practices. New section on "Methods in Studying Soil Organic Matter Formation and Nutrient Dynamics" to balance the two successful chapters on microbial and physiological methodology Includes expanded information on soil interactions with organisms involved in human and plant disease Improved readability and integration for an ever-widening audience in his field Integrated concepts related to soil biota, diversity, and function allow readers in multiple disciplines to understand the complex soil biota and their function
The Facts on File Dictionary of Biochemistry
Call Number: QP512 .F33 2003
ISBN: 0816049149
Publication Date: 2002-11-01
Biochemistry is a dynamic and ever-expanding field of research with relevance to many other biosciences and to medicine. This dictionary offers concise explanations of over 2000 key terms in the field. It includes a network of cross-references and over 60 illustrations. It should be particularly relevant to AP Science students, and it contains a number of useful lists, tables, and a bibliography.
The Joy of Chemistry: the amazing science of familiar things
Call Number: : the amazing science of familiar things
ISBN: 1591022312
Publication Date: 2005-02-01
Uses everyday examples to introduce the principles of chemistry to the nonscientist, and includes experiments that can be conducted using common household products.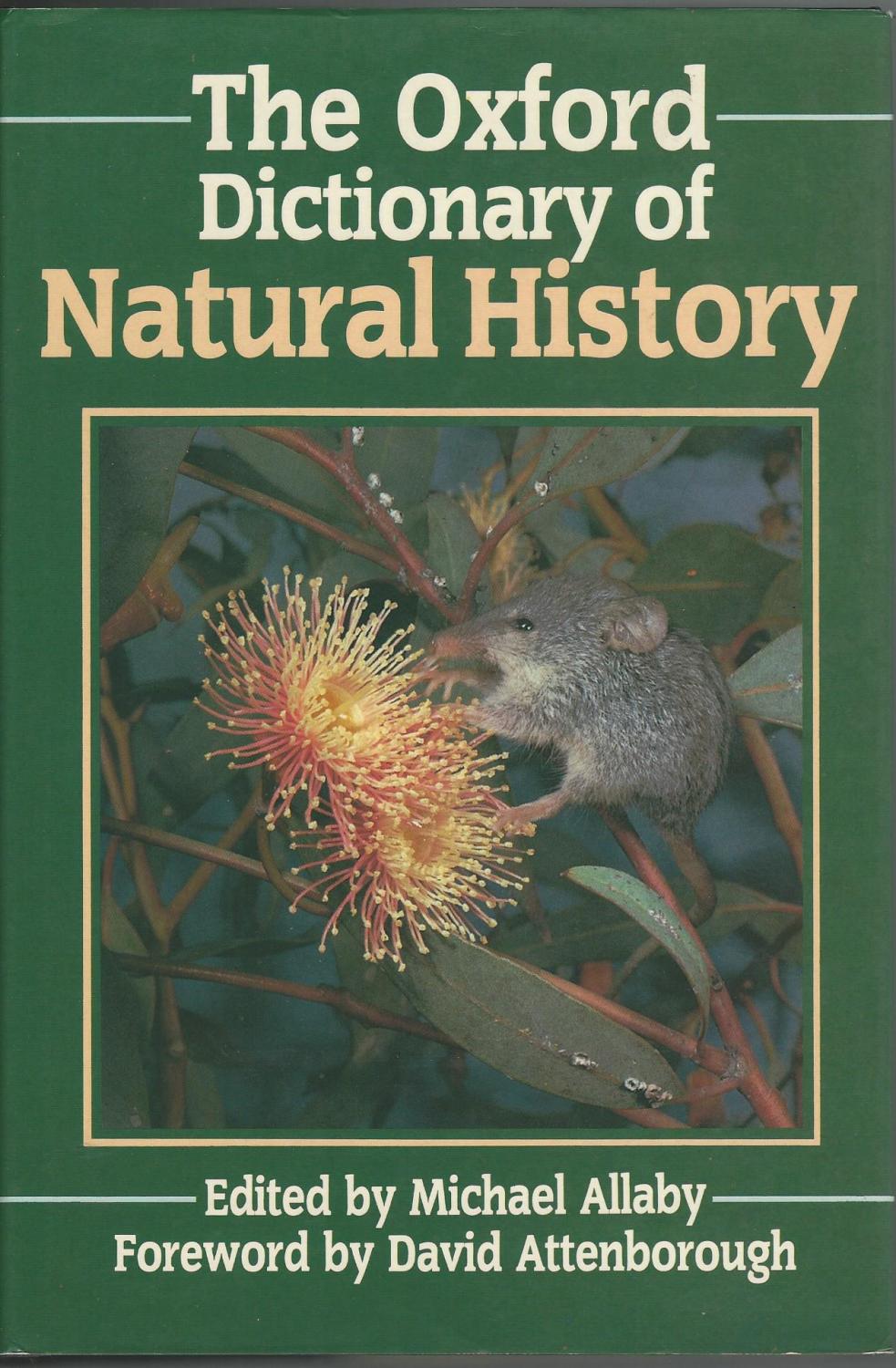 The Oxford Dictionary of Natural History
Call Number: QH13 .O9 1985
ISBN: 9780192177209
Publication Date: 1986-01-23
With clear, concise definitions of over 11,000 terms, this dictionary is the ideal reference for specialists and nonspecialists alike: students, teachers, scientists, amateur naturalists, and anyone interested in our natural environment. A new compilation that reflects the growing and changing vocabulary of science, the dictionary draws entries from many scientific disciplines, as well as from taxonomy. It includes terms from ecology, statistics, earth sciences, genetics, biochemistry, and physiology that readers are likely to encounter in literature dealing with plant and animal growth, structure, or behavior. At the same time, the dictionary will serve those in other disciplines who encounter unfamiliar taxonomic terms in their reading and research. Written by an international team of twenty specialists, and with the aid of a distinguished advisory board, the dictionary provides world-wide coverage. Line drawings are included to clarify meanings where needed, and cross-references refer readers from particular species to entries on families and major genera. The only one-volume work to provide extensive coverage of all aspects of natural history, this is an essential new reference source.