Books from the Warner University Library
Altruistic Armadillos, Zenlike Zebras: a menagerie of 100 favorite animals
Call Number: QL 45.2 .M374 2006
ISBN: 0345478819
Publication Date: 2006-10-31
The wondrous, remarkable, and outlandish activities of animals have long captured our curiosity, and no one has better explored or illuminated our fascination than Jeffrey Moussaieff Masson, bestselling author of the groundbreaking Dogs Never Lie About Love and When Elephants Weep. Masson's genuine passion for our two- and four-legged, invertebrate, flippered, and finned friends has turned into his life's calling–and earned him a reputation as one of our most provocative authorities on animal behavior. Now Masson shares his vast knowledge in this comprehensive and charming volume featuring one hundred of his favorite animals. Drawing upon this affable expert's own experience and extensive research, Altruistic Armadillos, Zenlike Zebras offers fascinating facts, colorful anecdotes, and surprising tidbits on familiar creatures (bottlenose dolphins, hummingbirds, kangaroos) as well as lesser-known, yet equally entrancing critters (bonobos, kakapos, and wombats). Inside you'll discover that • armadillos are the only mammals who routinely give birth to genetically identical quadruplets • frogs can mate for months at a time • koalas have tiny brains, possibly because they sleep for twenty hours a day • a newborn kangaroo is the size of a small bean • lobsters, if allowed to, can live for nearly a century • the manatee is one of the most gentle and inoffensive of animals No one interprets the inner workings and idiosyncrasies of animal behavior quite like Jeffrey Moussaieff Masson, nor does anyone else translate them to the page so engagingly. What's more, this guide includes gorgeous photographs and links to educational websites. Irresistible and illuminating, Altruistic Armadillos, Zenlike Zebras will forever change the way you view our world's most amazing creatures.
Animal Diversity
Call Number: QL 47.2 .H527 2000
ISBN: 0070122008
Publication Date: 1999-06-01
This text, suitable for zoology or related courses assumes students have previous knowledge in general biology, genetics and/or chemistry. It has an emphasis on animal diversity with an introduction to evolution and classification.
Animal Ethics
Call Number: HV 4708 .G37 2005
ISBN: 0745630790
Publication Date: 2005-09-02
This book is an attempt to lead the way through the moral maze that is our relationship with nonhuman animals. Written by an author with an established reputation in this field, the book takes the reader step by step through the main parameters of the debate, demonstrating at each turn the different positions adopted. In the second part of the book, the implications of holding each position for the ethical permissibility of what is done to animals - in laboratories, farms, the home and the wild - are explained. Garner starts by asking whether animals have any moral standing before moving on to assess exactly what degree of moral status ought to be accorded to them. It is suggested that whilst animals should not be granted the same moral status as humans, they are worthy of greater moral consideration than the orthodox animal welfare position allows. As a result, it is suggested that many of the ways we currently treat animals are morally illegitimate. In the final chapter, the issue of political praxis is tackled. How are reforms to the ways in which animals are treated to be achieved? This book suggests that currently dominant debates about insider status and direct action are less important than the question of agency. That is, the important question is not what is done to change the way animals are treated as much as whom is to be mobilised to join the cause. Students of philosophy, politics and environmental issues will find this an essential textbook.
Animal Investigators: how the world's first wildlife forensics lab is solving crimes and saving endangered species
Call Number: HV 8079 .W58 N46 2009
ISBN: 9781416550563
Publication Date: 2009-04-07
Inside the Clark R. Bavin U.S. Fish and Wildlife Service Forensics Laboratory lies a rarely seen world, a CSI for wildlife, where a walk-in freezer contains carcasses and animal parts awaiting necropsies (animal autopsies); shelves and drawers hold pills, rugs, carvings, and countless other products made from parts of endangered animals; and a dedicated group of forensic scientists is responsible for victims from thirty thousand animal species. Accomplished environmental journalist Laurel A. Neme goes behind the scenes at the wildlife forensics lab -- the only crime lab of its kind -- to reveal how its forensic scientists and the agents of the U.S. Fish and Wildlife Service are working to investigate wildlife crimes, protect endangered species, and stem illegal wildlife trafficking, the third largest illegal trade in the world. In three fascinating cases -- headless walrus washed up on the shores of Alaska, black bears killed for the healing powers of their gallbladders, and gorgeous feathered headdresses secretly shipped to the United States from the Amazon -- Neme traces the USFWS's daring undercover investigations and how the scientists' innovative forensic techniques provide conclusive evidence of a crime. Throughout, she underscores the staggering international scope of the supply and demand for wildlife and animal parts. Filled with the suspense and thrilling detail of a crime novel yet driven by the all-too-real drama of a small band of scientists and investigators battling a lucrative, high-stakes underground industry, Animal Investigators is an engrossing account of crime and cutting-edge science.
Animal Rights: current debates and new directions
Call Number: HV 4708 .A56 2004
ISBN: 0195152174
Publication Date: 2004-04-01
Millions of people live with cats, dogs, and other pets, which they treat as members of their families. But through their daily behavior, people who love those pets, and greatly care about their welfare, help ensure short and painful lives for millions, even billions of animals that cannot easily be distinguished from dogs and cats. Today, the overwhelming percentage of animals with whom Westerners interact are raised for food. Countless animals endure lives of relentless misery and die often torturous deaths. The use of animals by human beings, often for important human purposes, has forced uncomfortable questions to center stage: Should people change their behavior? Should the law promote animal welfare? Should animals have legal rights? Should animals continue to be counted as "property"? What reforms make sense? Cass Sunstein and Martha Nussbaum bring together an all-star cast of contributors to explore the legal and political issues that underlie the campaign for animal rights and the opposition to it. Addressing ethical questions about ownership, protection against unjustified suffering, and the ability of animals to make their own choices free from human control, the authors offer numerous different perspectives on animal rights and animal welfare. They show that whatever one's ultimate conclusions, the relationship between human beings and nonhuman animals is being fundamentally rethought. This book offers a state-of-the-art treatment of that rethinking. Contributors include: Elizabeth Anderson Cora Diamond Richard A. Epstein David Favre Gary L. Francione Gisela Kaplan Catharine A. MacKinnon Richard A. Posner James Rachelsl Lesley J. Rogers Peter Singer Mariann Sullivan Stephen M. Wise David J. Wolfson
Dolphin Mysteries: unlocking the secrets of communication
Call Number: QL 737 .C432 D836 2008
ISBN: 9780300121124
Publication Date: 2008-10-14
Dolphins have fascinated humans for millennia, giving rise to an abundance of stories and myths about them, yet the actual details of their lives in the sea have remained elusive. In this enthralling book, Kathleen M. Dudzinski and Toni Frohoff take us into the dolphins' aquatic world to witness firsthand how they live their lives, communicate, and interact with one another and with other species, including people. Kathleen M. Dudzinski and Toni Frohoff are scientists who have collectively dedicated more than 40 years to studying dolphins beneath the ocean's surface, frequently through a close-up underwater lens. Drawing on their own experiences and on up-to-the-minute research, the authors show that dolphins are decidedly not just members of a group but distinct individuals, able to communicate with one another and with humans. Dudzinski and Frohoff introduce a new way of looking at, and listening to, the vocabulary of dolphins in the sea, and they even provide an introductory "dolphin dictionary," listing complex social signals that dolphins use to share information among themselves and with people. Unveiling an intimate and scientifically accurate portrait of dolphins, this book will appeal to everyone who has wanted a closer glimpse into the hearts and minds of these amazing creatures.
Essays in Animal Behaviour: celebrating 50 years of Animal behaviour
Call Number: QL 751 .E65 2006
ISBN: 012369499X
Publication Date: 2005-11-07
Recently, the 50th anniversary of the publication of Animal Behaviour has passed. To mark the occasion, a group of prominent behaviourists have written essays relevant to their fields. These essays provide a glimpse of the study of behaviour looking in all directions. History and future aside, it is imperative to broadcast this information from the perspective of the behaviourists who have helped shape both the past and the future. It is important for any field to be both retrospective and prospective: where have we been, where are we going, where are we now? These essays provide a unique personal reflection on the history of animal behaviour from John Alcock, Stuart and Jeanne Altmann, Steve Arnold, Geoff Parker, and Felicity Huntingford. Six topics are reflected on and include: The History of Animal Behavioural Research, Proximate Mechanisms, Development, Adaptation, and Animal Welfare. * Broad range of essays on animal behaviour * Written by leaders in the field * Offers a history of the study of behaviour plus essays on the future of behavioural studies * Contains over 30 full color illustrations * Includes essays on development, mechanisms and adaptive significance of behaviour
A Neotropical Companion: an introduction to the animals, plants, and ecosystems of the New World tropics /
Call Number: QH 106.5 .K75 1997
ISBN: 0691044333
Publication Date: 1997-10-19
A Neotropical Companion is an extraordinarily readable introduction to the American tropics, the lands of Central and South America, their remarkable rainforests and other ecosystems, and the creatures that live there. It is the most comprehensive one-volume guide to the Neotropics available today. Widely praised in its first edition, it remains a book of unparalleled value to tourists, students, and scientists alike. This second edition has been substantially revised and expanded to incorporate the abundance of new scientific information that has been produced since it was first published in 1989. Major additions have been made to every chapter, and new chapters have been added on Neotropical ecosystems, human ecology, and the effects of deforestation. Biodiversity and its preservation are discussed throughout the book, and Neotropical evolution is described in detail. This new edition offers all new drawings and photographs, many of them in color. As enthusiastic readers of the first edition will attest, this is a charming book. Wearing his learning lightly and writing with ease and humor, John Kricher presents the complexities of tropical ecology as accessible and nonintimidating. Kricher is so thoroughly knowledgeable and the book is so complete in its coverage that general readers and ecotourists will not need any other book to help them identify and understand the plants and animals, from birds to bugs, that they will encounter in their travels to the New World tropics. At the same time, it will fascinate armchair travelers and students who may get no closer to the Neotropics than this engagingly written book.
A Walk Around the Pond: insects in and over the water
Call Number: QL 467.2 .W337 2006
ISBN: 0674027655
Publication Date: 2008-04-15
A water strider darts across a pond, its feet dimpling the surface tension; a giant water bug dives below, carrying his mateâe(tm)s eggs on his back; hidden among plant roots on the silty bottom, a dragonfly larva stalks unwary minnows. Barely skimming the surface, in the air above the pond, swarm mayflies with diaphanous wings. Take this walk around the pond with Gilbert Waldbauer and discover the most amazingly diverse inhabitants of the freshwater world. In his hallmark companionable style, Waldbauer introduces us to the aquatic insects that have colonized ponds, lakes, streams, and rivers, especially those in North America. Along the way we learn about the diverse forms these arthropods take, as well as their remarkable modes of lifeâe"how they have radiated into every imaginable niche in the water environment, and how they cope with the challenges such an environment poses to respiration, vision, thermoregulation, and reproduction. We encounter the caddis fly larva building its protective case and camouflaging it with stream detritus; green darner dragonflies mating midair in an acrobatic wheel formation; ants that have adapted to the tiny water environment within a pitcher plant; and insects whose adaptations to the aquatic lifestyle are furnishing biomaterials engineers with ideas for future applications in industry and consumer goods. While learning about the evolution, natural history, and ecology of these insects, readers also discover more than a little about the scientists who study them.
Hunter and Hunted: relationships between carnivores and people
Call Number: QL 85 .K78 2002
ISBN: 0521891094
Publication Date: 2002-09-05
Humans have mixed emotions concerning carnivores. We admire them as beautiful hunters, cosset them as pets, and use their pelts and other products in clothing, medicines and cosmetics. However, they are also responsible for killing us and our livestock, carry disease and compete with us for space and food. While some advocate the conservation of predators such as wolves and tigers, others see them as vermin and want them gone. In this book, Hans Kruuk, a life-long naturalist with a passion for predators tells the fascinating story of carnivores and our intricate relationships with them. Illustrated with specially commissioned drawings, it deals with the wild beauty of carnivores and their conservation, but also with furs and medicine, man-eaters and sheep-killers, explaining in simple terms what the role of carnivores is in nature, how this impacts on human lives, our art and literature, how we instinctively respond to them and why.
Infant Chimpanzee and Human Child: a classic 1935 comparative study of ape emotions and intellegence
Call Number: QL 785 .L28 2002
ISBN: 0195135652
Publication Date: 2002-03-14
This edition presents the first complete English translation of N.N. Ladygina-Kohts' journal chronicling her pioneering work with the chimpanzee, Joni. The journal entries describe and compare the instincts, emotions, play, and habits of her son Rudy and Joni as each develops. Firstpublished in Moscow in 1935 as a memoir in the Darwin Museum Series, this edition has 120 photographs, 46 drawings and an introduction by Allen and Beatrix Gardner of the Center for Advanced Study at the University of Nevada, as well as a Foreword and an Afterword by Lisa A. Parr, Signe Preuschoft,and Frans B. M. de Waal of the Living Links Center at Emory University.
Intelligence in Animals
Call Number: qQL 785 .I58 1997
ISBN: 0895779137
Publication Date: 2000-05-01
This newest Reader's Digest volume presents, in vivid photography and informative text, the intelligence of animals. The use of teaching through play activities, animals that use tools, the art of working together, animal sign language, and much more are discussed.
North American Wildlife
Call Number: fQL 151 .J6647 2006
ISBN: 1552857646
Publication Date: 2009-05-01
Nature writing and photography at their most exciting. North America's wildlife have endured the challenges put to them -- human encroachment, changing climates, and increased pollution -- with new trials forcing them to adapt as best they can. Their struggles and remarkable strategies are chronicled in North American Wildlife. nbsp; Complementing the compelling writing of David Jones are 400 of the most intriguing in-the-wild moments of wildlife ever captured: * A grizzly digging for razor clams on the shores of the Pacific * Wolves nursing their pups high in the Rocky Mountains * A Florida panther resting in the sun * Cougars and bobcats hunting * Rabbits, hares, raccoons, and pikas foraging for food * Stellar sea lions sunbathing off the Baja peninsula * Humpback whales feeding near Alaska's coastal fjords nbsp; The expansive parklands of North America provide a stunning backdrop for this dramatic close-up look at life in the wild.
Poisonous Plants and Animals of Florida and the Caribbean
Call Number: RA 1250 .N45 1997
ISBN: 1561641111
Publication Date: 1997-06-01
-- By identifying dangerous organisms, this book makes life safer for those who encounter the exuberant diversity of nature in the American tropics -- Part One illustrates and describes each poisonous plant and animal in a nontechnical manner -- Part Two provides in-depth information of the toxins, symptoms, and treatments presently recorded in the scientific literature, as well as beneficial uses and folklore -- A must for campers, hikers, bicyclists, kayakers -- anyone who spends time in the Florida outdoors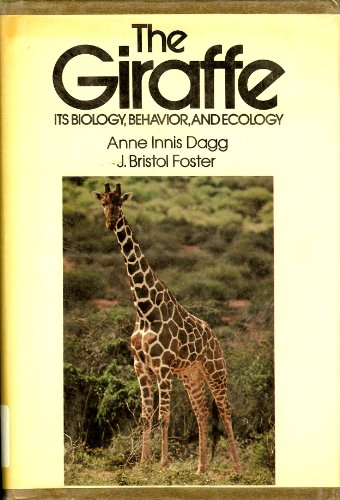 The Giraffe: its biology, behavior, and ecology
Call Number: QL737 .U56 D3
ISBN: 0442224311
Publication Date: 1976-06-01
The authors draw upon their own research of many years in the wild, in museums, and in zoos throughout the world, as well as the findings of other workers in the field. Specifically discussed is the place of the giraffe in its environment, including the manner in which it has adapted to its habitat and to other species living there, as well as changes due to the encroachment of man.
The Gopher Tortoise: a life history
Call Number: qQL 666 .C584 A85 2004
ISBN: 1561643017
Publication Date: 2004-06-01
Full-color book for children ages 10 and up. Details the life of the gopher tortoise and how it is tied in with other animals. Also discusses how the encroachment into the gopher tortoise's habitat is affecting the environment and the tortoise.
The Illustrated Guide to Freshwater Fish and River Creatures: a visual encyclopedia of aquatic life featuring 450 species : includes 500 detailed illustrations, photographs and maps
Call Number: qQL 624 .G540 2011
ISBN: 9781844767915
Publication Date: 2011-12-16
This encyclopedia reference book contains intriguing facts about the diverse creatures that dwell in rivers, lakes, streams and swamps around the world, with an illustrated continental directory on key freshwater families, including turtles, newts and crocodiles.
The Smaller Majority: the hidden world of the animals that dominate the tropics
Call Number: QL 109 .N37 2005
ISBN: 0674019156
Publication Date: 2005-10-15
People Saving Their Trees in Hurricane Sandy will raise funds for charities to plant trees in stricken areas. Read inspiring, heartfelt, and heroic stories from people who used the Tree Whispering Storm Prep Whispers to help their trees survive Hurricane Sandy and to empower themselves in the face of disaster.
Zoo: : a history of zoological gardens in the West
Call Number: QL 76 .B3713 2002
ISBN: 1861891113
Publication Date: 2004-05-02
Wild animals have fascinated human observers since time immemorial. The story of our interest in collecting, classifying and dominating Nature looms large; thus it is surprising that the history of menageries, zoological gardens and zoos as we know them today has been so poorly documented. This gap is addressed by Zoo. In the Renaissance, wealthy aristocrats showcased exotic beasts in private menageries. Safely caged, animals inspired the interest of naturalists and fed the curiosity of the masses. By the 19th century, increased urbanization and colonization aided the expansion of zoos in which animals were tamed to serve as domesticated livestock. Nowadays, with many natural habitats under threat of extinction, the social function of zoos is less clear. Such institutions both present the illusion of wild animals in a natural state to a nostalgic public and find themselves justifying their existence as saviors of endangered species.